741009 - Letter to Mr. Jayakar written from Mayapur
From Vanisource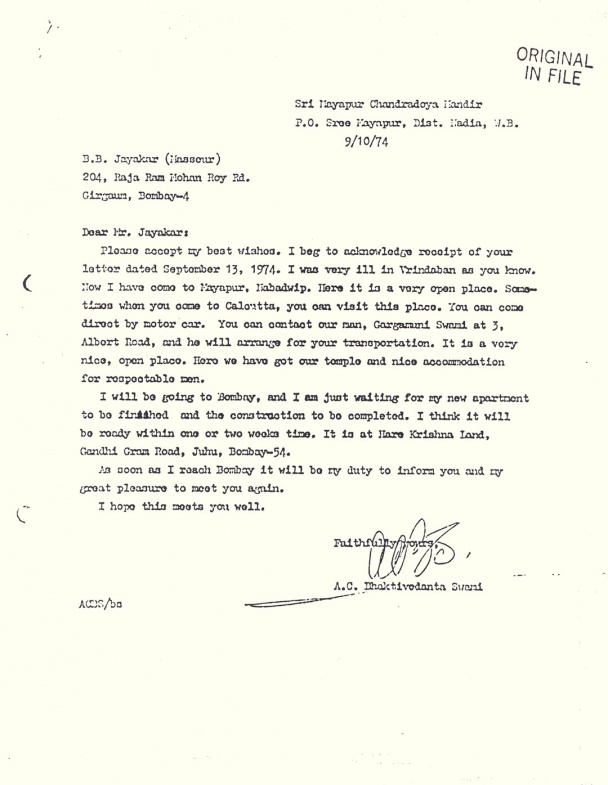 Sri Mayapur Chandradoya Mandir
P.O. Sree Mayapur, Dist. Nadia, W.B.
9/10/74
B.B. Jayakar (Hasseur)
204, Raja Ram Mohan Roy Rd.
Girgaun, Bombay-4

Dear Mr. Jayakar:
Please accept my best wishes. I beg to acknowledge receipt of your letter dated September 13, 1974. I was very ill in Vrindaban as you know. Now I have come to Mayapur, Navadwip. Here it is a very open place. Sometimes when you come to Calcutta, you can visit this place. You can come direct by motor car. You can contact our man, Gargamuni Swami at 3, Albert Road, and he will arrange for your transportation. It is a very nice, open place. Here we have got our temple and nice accommodation for respectable men.
I will be going to Bombay, and I am just waiting for my new apartment to be finished and the construction to be completed. I think it will be ready within one or two weeks time. It is at Hare Krishna Land, Gandhi Gram Road, Juhu, Bombay-54.
As soon as I reach Bombay it will be my duty to inform you and my great pleasure to meet you again.
I hope this meets you well.

Faithfully yours,
     


A.C. Bhaktivedanta Swami
ACBS/bs