741007 - Letter to Punjab National Bank written from Bombay
From Vanisource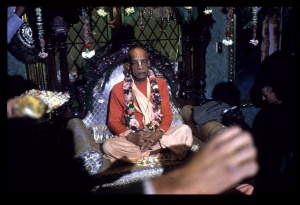 October 7, 1974
Sri Mayapur Chandradoya Mandir
P.O. Sree Dham Mayapur
Dist. Nadia, West Bengal
Punjab National Bank
B.O. Vrindaban
Vrindaban, Dist. Mathura, U.P.
Dear Sirs:
Enclosed please find two checks for deposit in my personal account No. 6112 as follows: 1. Check for Dollars 500.00 Bank of McMechen, W. Va. Dated September 24, 1974, check No 470. 2. Travelers Check No. 502 223 792 Barclays Bank 120 Broadway, New York for U.S. Dollars 50.00 dated 7/10/74. Please issue the relative deposit receipt slip.
Kindly favor me with a complete list of all foreign transfers received in a/c 668 to date from bank of America through your New Delhi Branch. Also inform me by return post what is the present balance of two accounts No. 6112 and No. 668.
Faithfully yours,
A.C. Bhaktivedanta Swami
Encs: 2 checks.
ACBS/bs