741001 - Letter to Madhavananda written from Mayapur
From Vanisource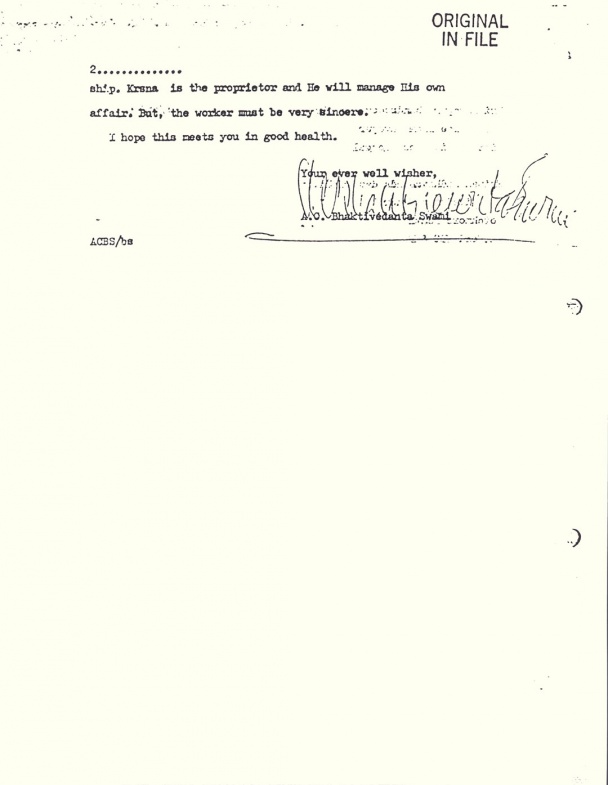 1/10/74
Sri Mayapur Chandradoya Mandir
P.O. Shree Dham Mayapur
Dist. Nadia, West Bengal

Sriman Madhavananda das Adhikary
Bhaktivedanta Manor
Letchmore Heath
Watford WD2 8EP
Hertsfordshire, U.K.

My Dear Madhavananda Das:
Please accept my blessings. I am in due receipt of your telegram dated September 28 reading as follows:
OBEISANCES RECEIVED PLEDGES FIFTY THOUSAND FROM LIFE MEMBERS INITIAL DONATIONS FOR TEMPLE CONSTRUCTION YOUR CONSENT OVERRULED BY HANSADUTTA STOP AM CONFUSED PLEASE INSTRUCT YOUR EAGER SERVANT=MADHAVANANDA
I have also received your letter dated September 20, 1974 and noted the contents. Regarding the election I have already suggested that you hold another election in the presence of Hansadutta and Bhagavandas with all members present, and to take that decision as final. There are so many contradictory statements in this matter.
Regarding the Parikrama in the village if they object, then don't agitate them unnecessarily. They are Christians, so why do it? You say that the houses are being put up for sale, but where is the money to buy them? What about the Life Member fees you are collecting? If you are keeping them for temple construction, they may be used to purchase these houses for the householder devotees. BBT loan is not meant for residential quarters. You purchase and they will pay rent and you get interest. Use the temple construction fund for this purpose. You say that you have gotten £50,000 in pledges, but we will require much more.
Regarding the 99 year lease, yes do it and construct the temple. I know that George will not ask us to vacate. He is not that type of man. But, still there should be some relationship. We don't want proprietorship.
P.T.O.
2................
Krsna is the proprietor and He will manage His own affair. But, the worker must be very sincere.
I hope this meets you in good health.

Your ever well wisher,



A.C. Bhaktivedanta Swami
ACBS/bs