740924 - Letter to Central Bank of India written from Calcutta
From Vanisource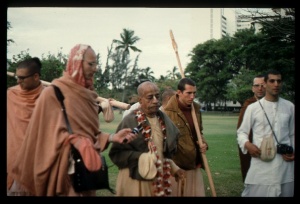 September 24, 1974
VIA REGISTERED A.D. POST Calcutta Branch
3, Albert Road
Calcutta-700 017
The Manager
Central Bank of India
Gowalia Tank Road Branch
BOMBAY Re: The Bhaktivedanta Book Trust
Dear Sir:
Enclosed please find four Fixed Deposit Receipts which please deal with as instructed herewith.
1. Fixed Deposit Receipt No. 23/127 for Rs. 1,04,215/98 (Rupees one lakh four thousand two hundred fifteen and ninety eight paise only.) This will mature on October 5, 1974. On this day please transfer the amount to Bhaktivedanta Book Trust Account No. 16066.
2. The other three Fixed Deposit Receipts as follows: No. 22/834 for Rs. 50,000/-; and No. 22/835 for Rs. 50,000/-; and No. 22/836 for Rs. :59,418/-, all three of which mature on the date of June 10, 1974, should all be renewed for a period of six months from the date of maturity. All these three fixed deposit receipts should be kept in your custody.
In the connection with the above I am informing my secretary Giriraj das Brahmachary with a copy of this letter to do the needful.
FOR BHAKTIVEDANTA BOOK TRUST
A.C. Bhaktivedanta Swami
Chairman
Encs: 4 Fixed Deposit Receipts.
cc: Giriraj Das Brahmachary, ISKCON-Bombay
ACBS/bs