740816 - Letter to Giriraja written from Vrndavana
From Vanisource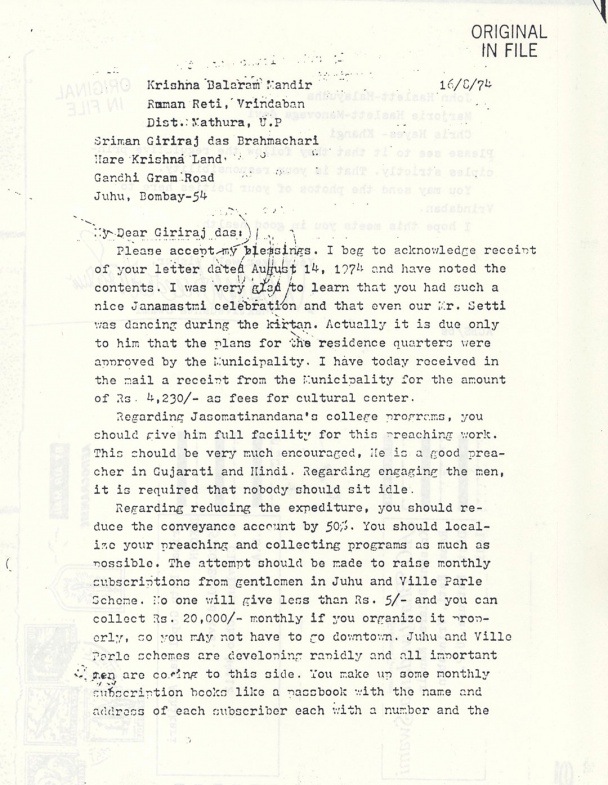 Krishna Balaram Mandir
Raman Reti, Vrindaban
Dist. Mathura U.P.
16/8/74
Sriman Giriraj das Brahmachari
Hare Krishna Land
Gandhi Gram Road
Juhu, Bombay-54

My Dear Giriraj das:
Please accept my blessings. I beg to acknowledge receipt of your letter dated August 14, 1974 and have noted the contents. I was very glad to learn that you had such a nice Janmastami celebration and that even our Mr. Setti was dancing during the kirtan. Actually it is due only to him that the plans for the residence quarters were approved by the Municipality. I have today received in the mail a receipt from the Municipality for the amount of Rs. 4,230/- as fees for cultural center.
Regarding Jasomatinandana's college programs, you should give him full facility for this preaching work. This should be very much encouraged. He is a good preacher in Gujarati and Hindi. Regarding engaging the men, it is required that nobody should sit idle.
Regarding reducing the expenditure, you should reduce the conveyance account by 50%. You should localize your preaching and collecting programs as much as possible. The attempt should be made to raise monthly subscriptions from gentlemen in Juhu and Ville Parle Scheme. No one will give less than Rs. 5/- and you can collect Rs. 20,000/- monthly if you organize it properly, so you may not have to go downtown. Juhu and Ville Parle schemes are developing rapidly and all important men are coming to this side. You make up some monthly subscription books like a passbook with the name and address of each subscriber each with a number and the amount of the monthly subscription and the date paid, and when the subscription is collected the subscriber signs his name. In this way three or four men can go house to house. Now that our temple is recognized, everyone will pay. Now there is a food program that is popular amongst the local people, so they will pay. They can also pay in goods such as rice and dahl.
I hope this meets you in good health.

Your ever well wisher,
     


A.C. Bhaktivedanta Swami
ACBS/bs