740709 - Letter to Madhudvisa written from Los Angeles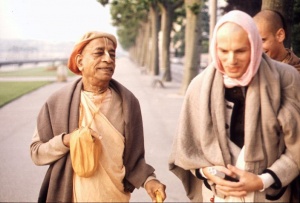 July 09, 1974

My Dear Madhudvisa Maharaja,
Please accept my blessings. After leaving your place I went to Chicago and then San Francisco and in both the places the Rathayatra ceremony was very successfully performed.
Now about the convent which you showed me, I think that place is suitable for us and is possible we can purchase it. So the reasonable price should be on the land value. So far the buildings are concerned they have already dismantled part of it and it will be our expenditure to rebuild. Consider this points and talk with the realty man at what price they can sell the property to us.
I am going today to Los Angeles and along with me there is Bali Mardan. So if the matter is successful then you can call L.A. I shall be there at least for a week. How much financial help you require from the BBT you can talk on this and we should do the needful.
Hoping this meets you in good health, and everything is going well there.
Your ever well-wisher,
A.C. Bhaktivedanta Swami