740526 - Letter to Dinadayadri written from Rome
From Vanisource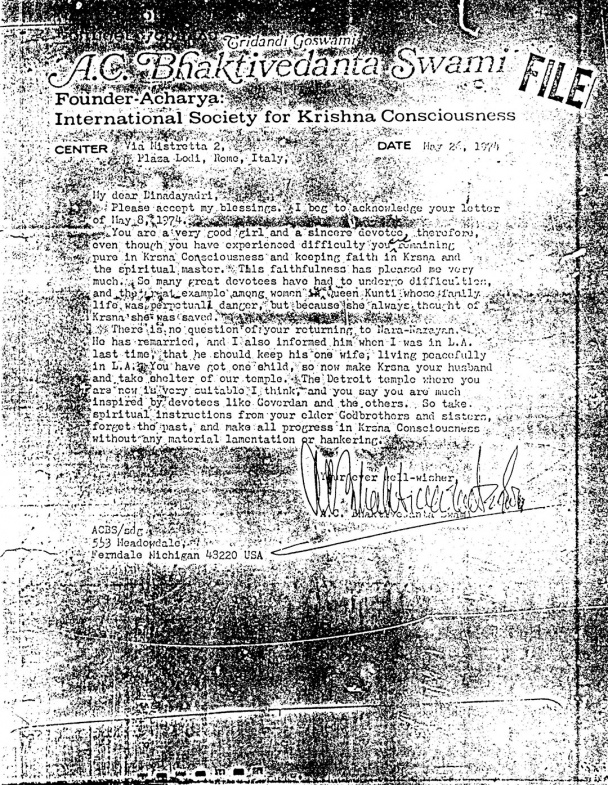 Tridandi Goswami
A.C. Bhaktivedanta Swami
Founder-Acharya:
International Society for Krishna Consciousness

DATE May 26, 1974
CENTER     Via Mistrette 2
                    Plaza Lodi Roma, Italy,

My dear Dinadayadri,
Please accept my blessings. I beg to acknowledge your letter of May 8, 1974.
You are a very good girl and a sincere devotee therefore, even though you have experienced difficulty you are [handwriting] remaining pure in Krsna Consciousness and keeping faith in Krsna and the spiritual master. This faithfulness has pleased me very much. So many great devotees have had to undergo difficulties, and the great example among women was Queen Kunti whose family life was perpetual danger, but because she always thought of Krsna she was saved.
There is no question of your returning to Nara-Narayan. He has remarried, and I also informed him when I was in L.A. last time, that he should keep his one wife, living peacefully in L.A. You have got one child, so now make Krsna your husband and take shelter of our temple. The Detroit temple where you are now is very suitable I think, and you say you are much inspired by devotees like Govordan and the others. So take spiritual instructions from your elder Godbrothers and sisters, forget the past, and make all progress in Krsna Consciousness without any material lamentation or hankering.

Your ever well-wisher,



A.C. Bhaktivedanta Swami

ACBS/sdg
553 Headowdale
Ferndale, Michigan 48220 USA