740509 - Letter to Caru written from Bombay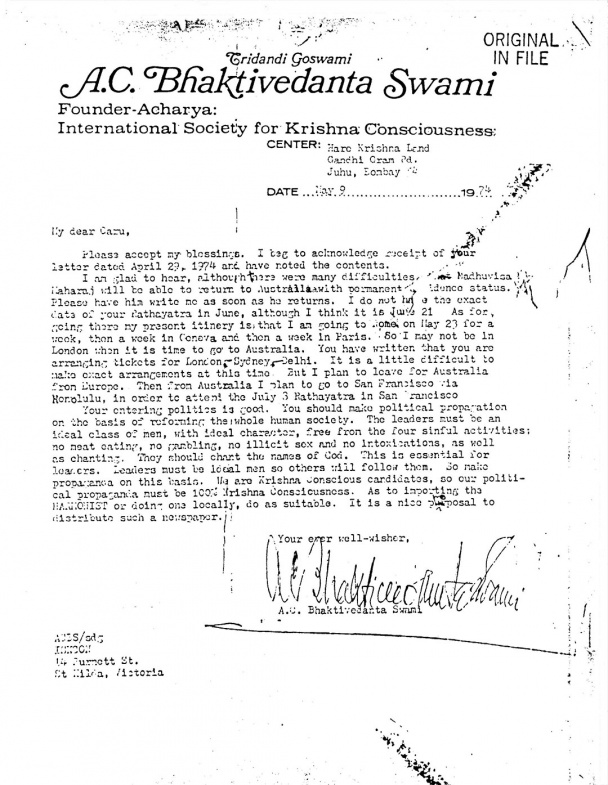 Tridandi Goswami
A.C. Bhaktivedanta Swami
Founder-Acharya:
International Society for Krishna Consciousness
CENTER: Hare Krishna Land,
              Gandhi Gram Road,
              Juhu, Bombay 54
DATE ...May.9......................1974.

My dear Caru,
Please accept my blessings. I beg to acknowledge receipt of your letter dated April 29, 1974 and have noted the contents.
I am glad to hear, although there were many difficulties, that Madhudvisa Maharaj will be able to return to Australia with permanent residence status. Please have him write me as soon as he returns. I do not have the exact date of your Rathayatra in June, although I think it is June 21. As for going there my present itinerary is that I am going to Rome on May 23 for a week, then a week in Geneva and then a week in Paris. So I may not be in London when it is time to go to Australia. You have written that you are arranging tickets for London-Sydney-Delhi. It is a little difficult to make exact arrangements at this time. But I plan to leave for Australia from Europe. Then from Australia I plan to go to San Francisco via Honolulu, in order to attend the July 8 Rathayatra in San Francisco.
Your entering politics is good. You should make political propagation on the basis of reforming the whole human society. The leaders must be an ideal class of men, with ideal character, free from the four sinful activities: no meat eating, no gambling, no illicit sex and no intoxications, as well as chanting. They should chant the names of God. This is essential for leaders. Leaders must be ideal men so others will follow them. So make propaganda on this basis. We are Krishna Conscious candidates, so our political propaganda must be 100% Krishna Consciousness. As to importing the HARMONIST or doing one locally, do as suitable. It is a nice proposal to distribute such a newspaper.
Your ever well-wisher,



A.C. Bhaktivedanta Swami

ACBS/sdg
ISKCON
14 Purnett St.
St Hilda, Victoria