740502 - Letter to ISKCON Artists written from Bombay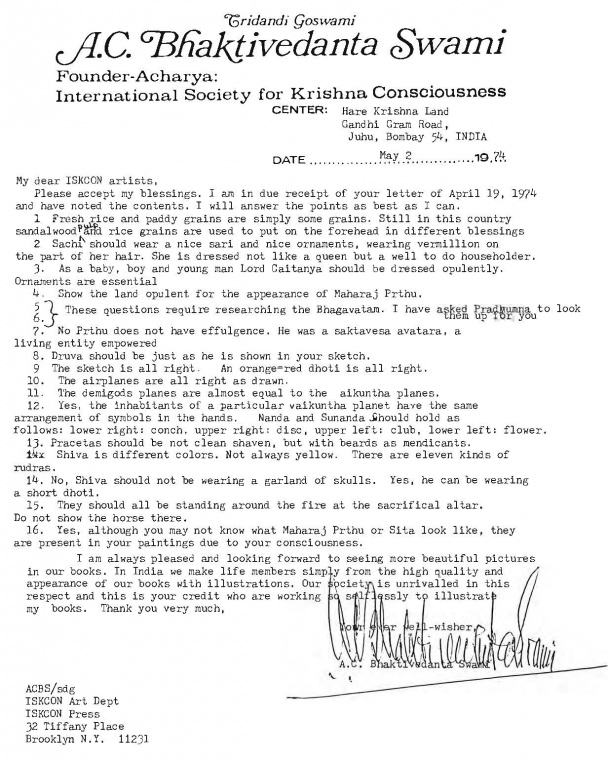 Tridandi Goswami
A.C. Bhaktivedanta Swami
Founder-Acharya:
International Society for Krishna Consciousness
CENTER:   Hare Krishna Land,
                Gandhi Gram Road,
                Juhu, Bombay 54, INDIA
DATE .............May..2.............19.74

My dear ISKCON artists,
Please accept my blessings. I am in due receipt of your letter of April 19, 1974 and have noted the contents. I will answer the points as best as I can.
1. Fresh rice and paddy grains are simply some grains. Still in this country of sandalwood pulp [handwritten] and rice grains are used to put on the forehead in different blessings.
2. Sachi should wear a nice sari and nice ornaments, wearing vermillion on the part of her hair. She is dressed not like a queen but a well to do householder.
3. As a baby, boy and young man Lord Caitanya should be dressed opulently. Ornaments are essential.
4. Show the land opulent for the appearance of Maharaja Prthu.
5. & 6. These questions require researching the Bhagavatam. I have asked Pradyumna to look them up for you.
7. No Prthu does not have effulgence. He was a saktyavesa avatara, a living entity empowered
8. Druva should be just as he is shown in your sketch.
9. The sketch is all right. An orange-red dhoti is all right.
10. The airplanes are all right as drawn.
11. The demigods planes are almost equal to the Vaikuntha planes.
12. Yes, the inhabitants of a particular Vaikuntha planet have the same arrangement of symbols in the hands. Nanda and Sunanda should hold as follows: lower right: conch, upper right: disc, upper left: club, lower left: flower.
13. Pracetas should be not clean shaven, but with beards as mendicants.
Shiva is different colors. Not always yellow. There are eleven kinds of rudras.
14. No, Siva should not be wearing a garland of skulls. Yes, he can be wearing a short dhoti.
15. They should all be standing around the fire at the sacrificial altar. Do not show the horse there.
16. Yes, although you may not know what Maharaj Prthu or Sita look like, they are present in your paintings due to your consciousness.
I am always pleased and looking forward to seeing more beautiful pictures in our books. In India we make life members simply from the high quality and appearance of our books with illustrations. Our society is unrivalled in this respect and this is your credit who are working so selflessly to illustrate my books. Thank you very much.

Your ever well-wisher,



A.C. Bhaktivedanta Swami

ACBS/sdg
ISKCON Art Dept
ISKCON Press
32 Tiffany Place
Brooklyn N.Y. 11231