Radharani

Krishna

Caitanya

God

God's Holy Names

Krishna Consciousness Movement

Who Is Srila Prabhupada

his Timeline

Months in his Life

Training his Disciples

Questions

Bhagavad-gita

Devotees of God

Devotional Service to God

Discipleship

Guru / Acharya

Essential Subjects

Nectar Drops

What's in Vanipedia now

Glorious Personalities

Yoga

Collaborate with us to invoke and fully manifest Srila Prabhupada's Vani-presence.
---
740116 - Letter to Sukadeva written from Honolulu
From Vanisource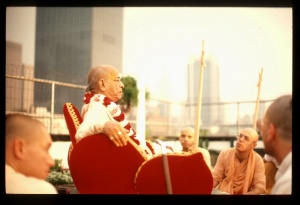 January 16, 1974

From: A. C. Bhaktivedanta Swami
Center: Hotel Ilikai
P. O. Box 2668
Honolulu Hawaii
January 16, 1974

Dear Sukadeva,
[illegible] I [illegible] to acknowledge [illegible] letter of January 3, 1974.
I have accepted as my disciples those devotees you [illegible] recommended for initiation, and there spiritual names are as follows: [illegible] Please hold a fire yajna for these devotees and speak at [illegible] importance of keeping the promise made before Krsna and the spiritual master. If one cannot keep the promises made at initiation, then why come forward and ask for initiation? Krsna consciousness is the greatest science of God, and it brings one the success of human life, to go back to home, back to Godhead, so we require sincere, serious disciples to themselves become perfect and then distribute this message all over the world. You can send their beads for chanting to Kirtanananda Maharaj. I have also accepted upon your recommendation, Prabhanu das, Jagadisuani devi, dasi, Sura das, Vidhatri devi dasi, Ragamathani devi dasi and Nistula das for second initiation. I have enclosed [illegible] sacred threads and gayatri mantras. Have them hear the mantra by me through the right ear.
You have inquired about taking varnaprasta. It is better to give your attention to your duties of managing that center and the devotees in your charge rather than think of giving up present duties. After you are 50 years old you can consider this move. I have head (heard) good reports of the Seattle center, so please remain enthusiastic and continue distributing my books, and chanting Hare Krsna. When you were in Los Angeles, I was pleased to hear your spirited leading of the kirtans.
Your ever well-wisher,
A.C. Bhaktivedanta Swami
ACBS/sdg
400 18th Avenue East 98112
Seattle, Washington