731201 - Letter to Yasodanandana and Gurukrpa written from Los Angeles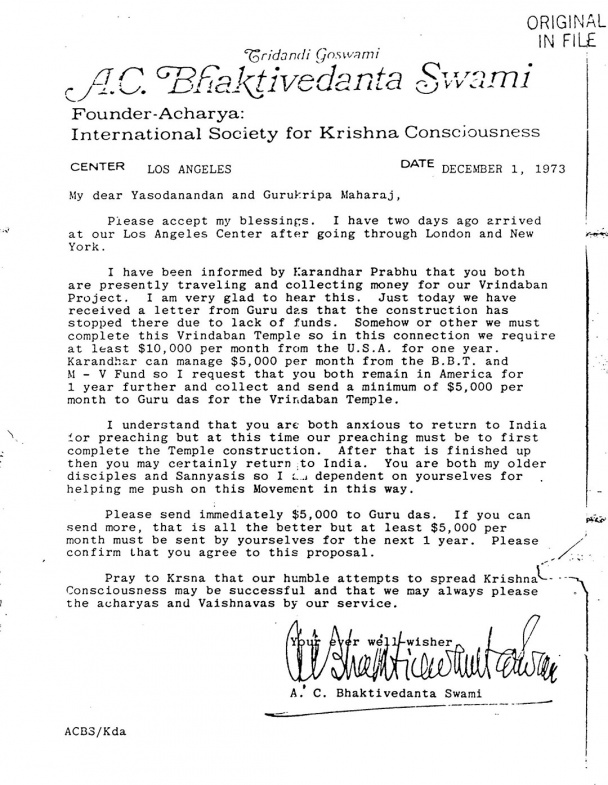 Tridandi Goswami
A.C. Bhaktivedanta Swami
Founder-Acharya:
International Society for Krishna Consciousness

DATE December 1, 1973
CENTER    LOS ANGELES
My Dear Yasodanandan and Gurukripa Maharaj,
Please accept my blessings. I have two days ago arrived at our Los Angeles Center after going through London and New York.
I have been informed by Karandhar Prabhu that you both are presently traveling and collecting money for our Vrindaban Project. I am very glad to hear this. Just today we have received a letter from Guru das that the construction has stopped there due to lack of funds. Somehow or other we must complete this Vrindaban Temple so in this connection we require at least $10,000 per month from the U.S.A. for one year. Karandhar can manage $5,000 per month for the BBT and M - V Fund so I request that you both remain in America for 1 year further and collect and send a minimum of $5,000 per month to Guru das for the Vrindaban Temple.
I understand that you are both anxious to return to India for preaching but at this time our preaching must be to first complete the Temple construction. After that is finished up then you may certainly return to India. You are both my older disciples and Sannyasis so I am dependent on yourselves for helping me push on this Movement in this way.
Please send immediately $5,000 to Guru das. If you can send more, that is all the better but at least $5,000 per month must be sent by yourselves for the next 1 year. Please confirm that you agree to this proposal.
Pray to Krsna that our humble attempts to spread Krishna Consciousness may be successful and that we may always please the acharyas and Vaishnavas by our service.