731107 - Letter to Tusta Krsna written from Delhi
From Vanisource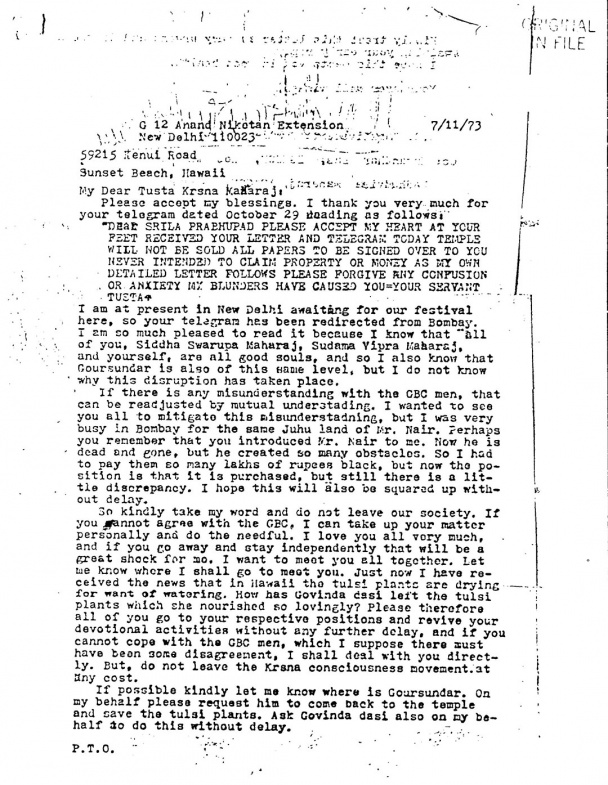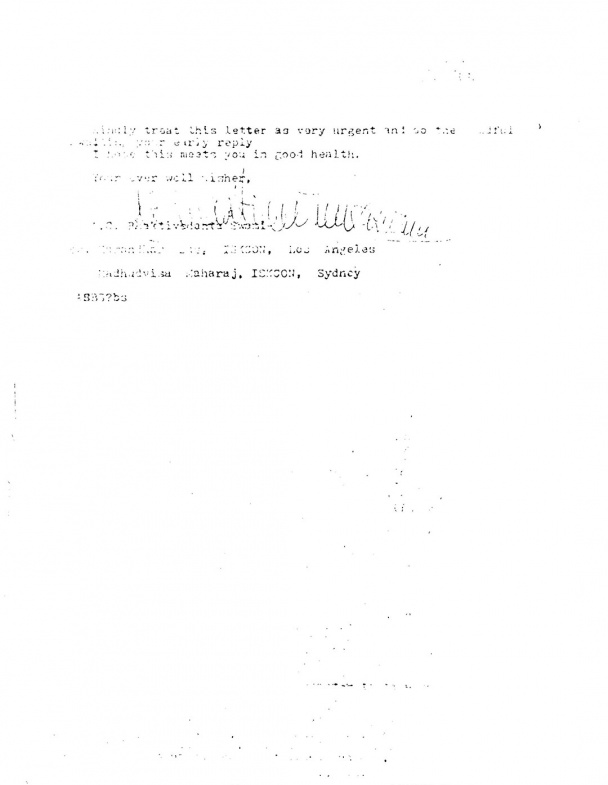 7/11//73
G 12 Anand Niketan Extension
New Delhi 110023
59215 Kenui Road
Sunset Beach, Hawaii
My Dear Tusta Krsna Maharaj:
Please accept my blessings. I thank you very much for your telegram dated October 29 reading as follows:
"DEAR SRILA PRABHUPAD, PLEASE ACCEPT MY HEART AT YOUR FEET RECEIVED YOUR LETTER AND TELEGRAM TODAY TEMPLE WILL NOT BE SOLD ALL PAPERS TO BE SIGNED OVER TO YOU NEVER INTENDED TO CLAIM PROPERTY OR MONEY AS MY OWN DETAILED LETTER FOLLOWS PLEASE FORGIVE ANY CONFUSION OR ANXIETY MY BLUNDERS HAVE CAUSED YOU=YOUR SERVANT TUSTA"
I am at present in New Delhi awaiting for our festival here, so your telegram has been redirected from Bombay. I am so much pleased to read it because I know that all of you, Siddha Swarupa Maharaj, Sudama Vipra Maharaj, and yourself, are all good souls, and so I also know that Goursundar is also of this same level, but I do not know why this disruption has taken place.
If there is any misunderstanding with the GBC men, that can be readjusted by mutual understanding. I wanted to see you all to mitigate this misunderstanding, but I was very busy in Bombay for the same Juhu land of Mr. Nair. Perhaps you remember that you introduced Mr. Nair to me. Now he is dead and gone, but he created so many obstacles. So I had to pay them so many lakhs of rupees black, but now the position is that it is purchased, but still there is a little discrepancy. I hope this will also be squared up without delay.
So kindly take my word and do not leave our society. If you cannot agree with the GBC, I can take up your matter personally and do the needful. I love you all very much, and if you go away and stay independently that will be a great shock for me. I want to meet you all together. Let me know where I shall go to meet you. Just now I have received the news that in Hawaii the tulsi plants are drying for want of watering. How has Govinda dasi left the tulsi plants which she nourished so lovingly? Please therefore all of you go to your respective positions and revive your devotional activities without any further delay, and if you cannot cope with the GBC men, which I suppose there must have been some disagreement, I shall deal with you directly. But, do not leave the Krsna consciousness movement, at any cost.
If possible kindly let me know where is Goursundar. On my behalf please request him to come back to the temple and save the tulsi plants. Ask Govinda dasi also on my behalf to do this without delay.

Kindly treat this letter as very urgent and do the needful. Awaiting your early reply.
I hope this meets you in good health.
Your ever well wisher,



A.C. Bhaktivedanta Swami
cc: Karandhar Das, ISKCON, Los Angeles
Madhudvisa Maharaj, ISKCON, Sydney
ACBS/bs