731107 - Letter to Tamala Krishna written from Delhi
From Vanisource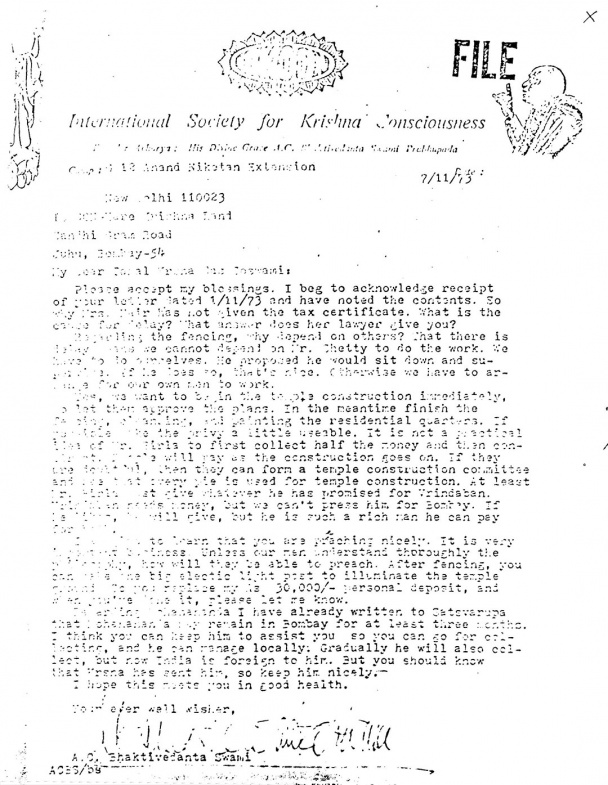 ISKCON
International Society for Krishna Consciousness
Founder-Acharya: His Divine Grace A.C. Bhaktivedanta Swami Prabhupada
7/11/1973
CAMP: G 12 Anand Neketan Extension
New Delhi 110023
ISKCON Hare Krishna Land
Gandhi Gram Road
Juhu, Bombay-54
My Dear Tamal Krsna das Goswami:
Please accept my blessings. I beg to acknowledge receipt of your letter dated 1/11/73 and have noted the contents. So why Mrs. Nair has not given the tax certificate. What is the cause for delay? What answer does her lawyer give you?
Regarding the fencing, why depend on others? That there is delay means we cannot depend on Mr. Shetty to do the work. We have to do ourselves. He proposed he would sit down and supervise. If he does so, that's nice. Otherwise we have to arrange for our own men to work.
Yes, we want to begin the temple construction immediately, so let them approve the plans. In the meantime finish the fencing, cleansing, and painting the residential quarters. If possible make the privy a little usable. It is not a practical idea of Mr. Birla to first collect half the money and then construct. People will pay as the construction goes on. If they are doubtful, then they can form a temple construction committee and see that every pie is used for temple construction. At least Mr. Birla must give whatever he has promised for Vrindaban. Vrindaban needs money, but we can't press him for Bombay. If he likes, he will give, but he is such a rich man he can pay for both.
I am glad to learn that you are preaching nicely. It is very important business. Unless our men understand thoroughly the philosophy, how will they be able to preach? After fencing, you can make one big electric light post to illuminate the temple ground. So you replace my Rs. 30,000/- personal deposit, and when you've done it, please let me know.
Regarding Mohanananda I have already written to Satsvarupa that Mohanananda may remain in Bombay for at least three months. I think you can keep him to assist you so you can go for collecting, and he can manage locally. Gradually he will also collect, but now India is foreign to him. But you should know that Krsna has sent him, so keep him nicely.
I hope this meets you in good health.