731106 - Letter to Mukunda written from Delhi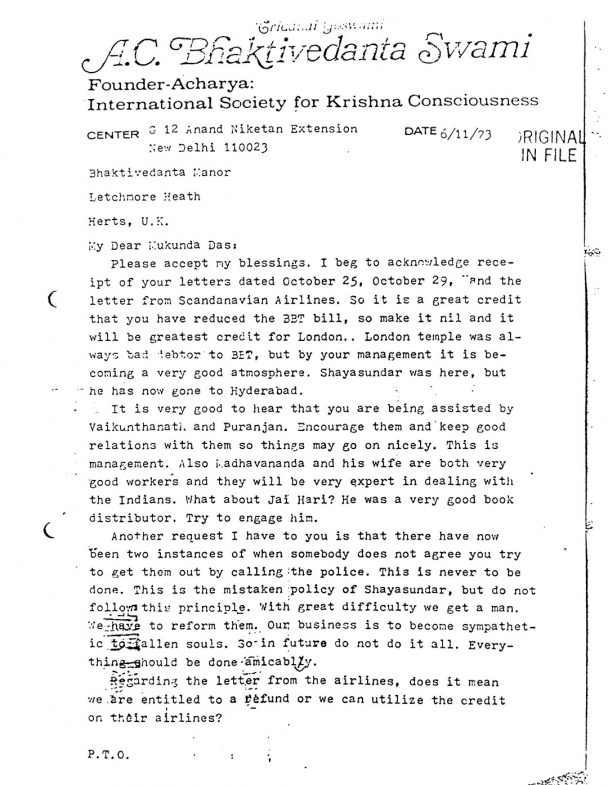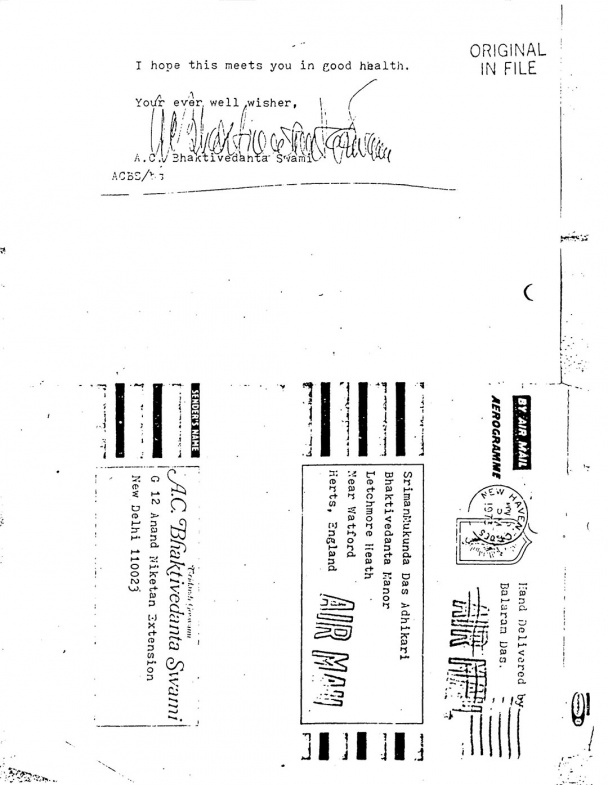 Tridandi Goswami
A.C. Bhaktivedanta Swami
Founder-Acharya:
International Society for Krishna Consciousness

DATE 6/11/73
CENTER G 12 Anand Niketan Extension
             New Delhi 110023
Bhaktivedanta Manor
Letchmore Heath
Herts, U.K.
My Dear Mukunda Das:
Please accept my blessings. I beg to acknowledge receipt of your letters dated October 25, October 29, and the letter from Scandinavian Airlines. So it is a great credit that you have reduced the BBT bill, so make it nil and it will be greatest credit for London. London temple was always bad debtor to BBT, but by your management it is becoming a very good atmosphere. Shayasundar was here, but he has now gone to Hyderabad.
It is very good to hear that you are being assisted by Vaikunthanath and Puranjan. Encourage them and keep good relations with them so things may go on nicely. This is management. Also Madhavananda and his wife are both very good workers and they will be very expert in dealing with the Indians. What about Jai Hari? He was a very good book distributor. Try to engage him.
Another request I have to you is that there have now been two instances of when somebody does not agree you try to get them out by calling the police. This is never to be done. This is the mistaken policy of Shayasundar, but do not follow this principle. With great difficulty we get a man. We have to reform them. Our business is to become sympathetic to fallen souls. So in future do not do it all. Everything should be done amicably.
Regarding the letter from the airlines, does it mean we are entitled to a refund or we can utilize the credit on their airlines?

I hope this meets you in good health.

Your ever well wisher,



A.C. Bhaktivedanta Swami
ACBS/bs



Sriman Mukunda Das Adhikari
Bhaktivedanta Manor
Letchmore Heath
Near Watford
Herts, England

Tridandi Goswami
A.C. Bhaktivedanta Swami
G 12 Anand Niketan Extension
New Delhi 110023