730819 - Letter to Madana Mohana Mohini written from Bhaktivedanta Manor, UK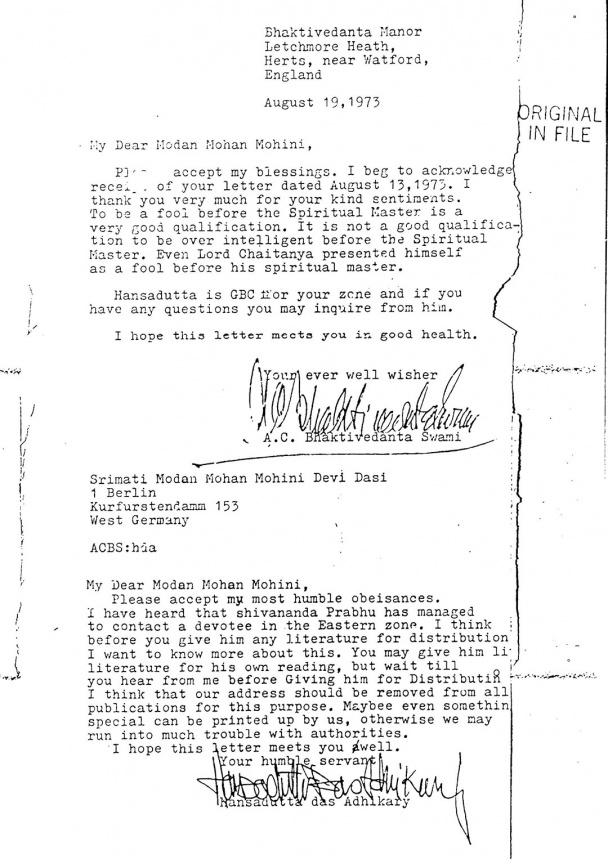 Bhaktivedanta Manor
Letchmore Heath,
Herts, near Watford,
England
August 19, 1973

My Dear Modan Mohan Mohini,
Please accept my blessings. I beg to acknowledge receipt of your letter dated August 13, 1973. I thank you very much for your kind sentiments. To be a fool before the Spiritual Master is a very good qualification. It is not a good qualification to be over intelligent before the Spiritual Master. Even Lord Chaitanya presented himself as a fool before his spiritual master.
Hansadutta is GBC for your zone and if you have any questions you may inquire from him.
I hope this letter meets you in good health.

Your ever well wisher,



A.C. Bhaktivedanta Swami

Srimati Modan Mohan Mohini Devi Dasi
1 Berlin
Kurfurstendamm 153
West Germany
ACBS:hda

My Dear Modan Mohan Mohini,
Please accept my most humble obeisances. I have heard that shivananda Prabhu has managed to contact a devotee in the Eastern zone. I think before you give him any literature for distribution. I want to know more about this. You may give him literature for his own reading, but wait till you hear from me before Giving him for Distribution. I think that our address should be removed from all publications for this purpose. Maybee even something special can be printed up by us, otherwise we may run into much trouble with authorities.
I hope this letter meets you well.
Your humble servant



Hansadutta das Adhikary