730815 - Letter to Tejiyas written from Bhaktivedanta Manor, UK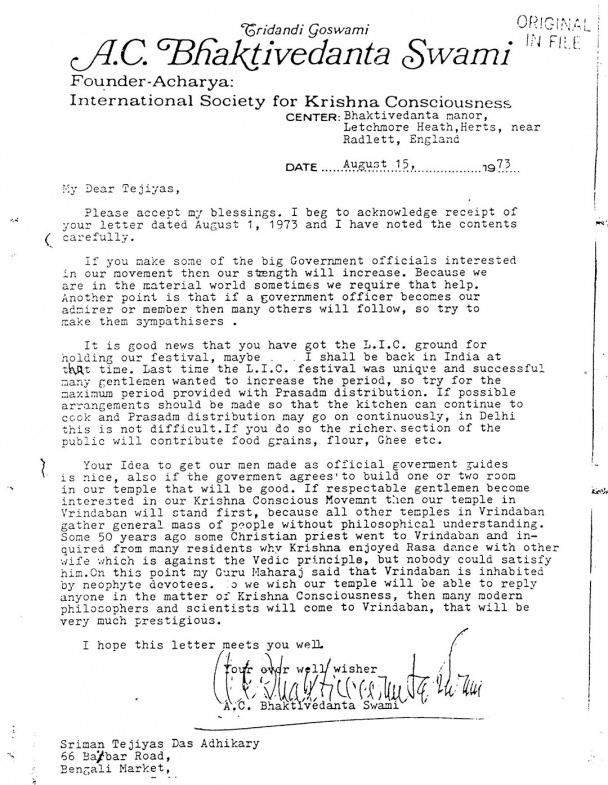 Tridandi Goswami
A.C. Bhaktivedanta Swami
Founder-Acharya:
International Society for Krishna Consciousness
CENTER:Bhaktivedanta manor
             Letchmore Heath, Herts, near
             Radlett, England
DATE ....August..15,..............1973...
My Dear Tejiyas,
Please accept my blessings. I beg to acknowledge receipt of your letter dated August 1, 1973 and I have noted the contents carefully.
If you make some of the big Government officials interested in our movement then our strength will increase. Because we are in the material world sometimes we require that help. Another point is that if a government officer becomes our admirer or member then many others will follow, so try to make them sympathisers.
It is good news that you have got the L.I.C. ground for holding our festival, maybe I shall be back in India at that time. Last time the L.I.C. festival was unique and successful many gentlemen wanted to increase the period, so try for the maximum period provided with Prasadm distribution. If possible arrangements should be made so that the kitchen can continue to cook and Prasadam distribution may go on continuously, in Delhi this is not difficult. If you do so the richer section of the public will contribute food grains, flour, Ghee etc.
Your Idea to get our men made as official government guides is nice, also if the government agrees to build one or two room in our temple that will be good. If respectable gentlemen become interested in our Krishna Conscious Movement then our temple in Vrindaban will stand first, because all other temples in Vrindaban gather general mass of people without philosophical understanding. Some 50 years ago some Christian priest went to Vrindaban and inquired from many residents why Krishna enjoyed Rasa dance with other wife which is against the Vedic principle, but nobody could satisfy him. On this point my Guru Maharaj said that Vrindaban is inhabited by neophyte devotees. So we wish our temple will be able to reply anyone in the matter of Krishna Consciousness, then many modern philosophers and scientists will come to Vrindaban, that will be very much prestigious.
I hope this letter meets you well.
Your ever well wisher



A.C. Bhaktivedanta Swami

Sriman Tejiyas Das Adhikary
66 Babar Road,
Bengali Market,