730815 - Letter to Tamala Krishna written from Bhaktivedanta Manor, UK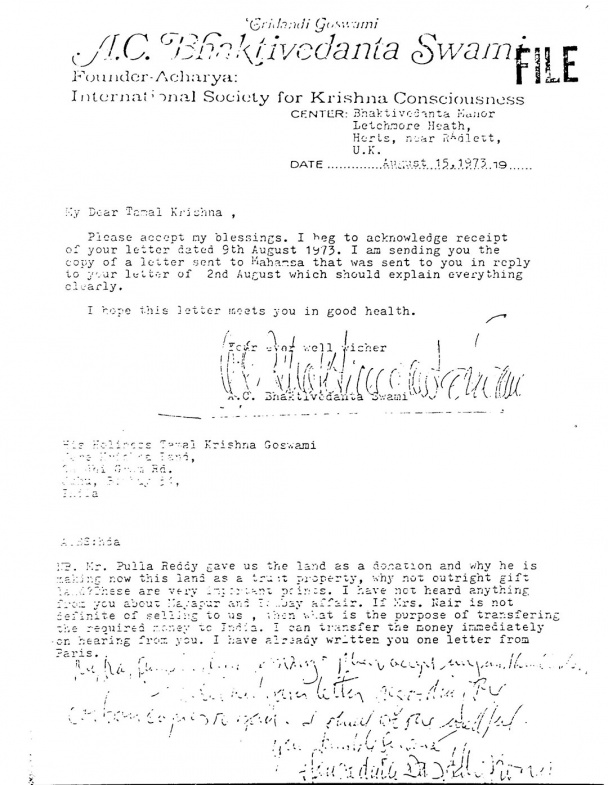 Tridandi Goswami
A.C. Bhaktivedanta Swami
Founder Acharya:
International Society For Krishna Consciousness
CENTER: Bhaktivedanta Manor
Letchmore Heath
Herts, Near Radlett,
U.K.
DATE: August 15, 1973
My Dear Tamal Krishna,
Please accept my blessings. I beg to acknowledge receipt of your letter dated 9th August 1973. I am sending you the copy of a letter sent to Mahamsa that was sent to you in reply to your letter of 2nd August which should explain everything clearly.
I hope this letter meets you in good health.
Your ever well wisher
[signed]
A.C. Bhaktivedanta Swami
His Holiness Tamal Krishna Goswami
Hare Krishna Land [unclear]
Gandhi Gram Rd. [unclear]
Juhu, Bombay [unclear]
India
ACBS:hda
NB. Mr. Pulla Reddy gave us the land as a donation and why he is making now this land as a trust property, why not outright gift land? [unclear] These are very important points. I have not heard anything from you about Mayapur and Bombay [unclear] affair. If Mrs. Nair is not definite of selling to us, then what is the purpose of transferring the required money to India. I can transfer the money immediately on hearing from you. I have already written you one letter from Paris.
[handwritten] [unclear]