730720 - Letter to Nityananda written from Bhaktivedanta Manor, UK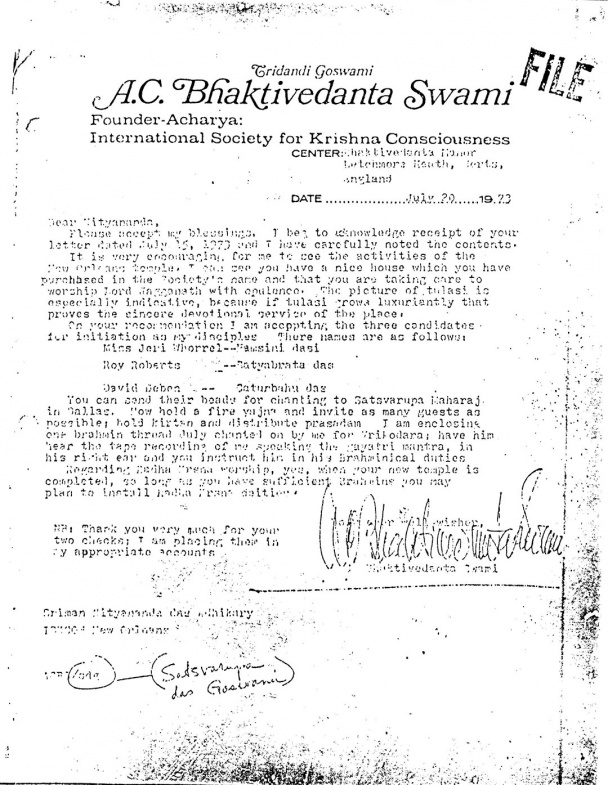 Tridandi Goswami
A.C. Bhaktivedanta Swami
Founder-Acharya:
International Society for Krishna Consciousness
CENTER:Bhaktivedanta Manor,
             Letchmore Heath, Herts.,
             England
DATE ..................July..20....19.73
Dear Nityananda,
Please accept my blessings. I beg to acknowledge receipt of your letter dated July 15, 1973 and I have carefully noted the contents.
It is very encouraging for me to see the activities of the New Orleans temple. I can see you have a nice house which you have purchased in the Society's name and that you are taking care to worship Lord Jagganatha with opulence. The picture of tulasi is especially indicative, because if tulasi grows luxuriantly that proves the sincere devotional service of the place.
On you recommendation I am accepting the three candidates for initiation as my disciples. Their names are as follows:
Miss Jeri Whorrel--Hamsini dasi
Roy Roberts        --Satyabrata das
David Deben   --   Caturbahu das
You can send their beads for chanting to Satsvarupa Maharaj in Dallas. Now hold a fire yajna and invite as many guests as possible; hold kirtan and distribute prasadam. I am enclosing one brahmin thread duly chanted on by me for Vrikodara; have him hear the tape recording of me speaking the gayatri mantra, in his right ear and you instruct him in his Brahminical duties.
Regarding Radha Krsna worship, yes, when your new temple is completed, so long as you have sufficient Brahmins you may plan to install Radha Krsna deities.

Your ever well-wisher,



A.C. Bhaktivedanta Swami
NB: Thank you very much for your two checks; I am placing them in my appropriate accounts.

Sriman Nityananda das Adhikary
ISKCON New Orleans

ACBS/sdg - (Satsvarupa das Goswami) [handwritten]