730331 - Letter to Karandhara written from Bombay
From Vanisource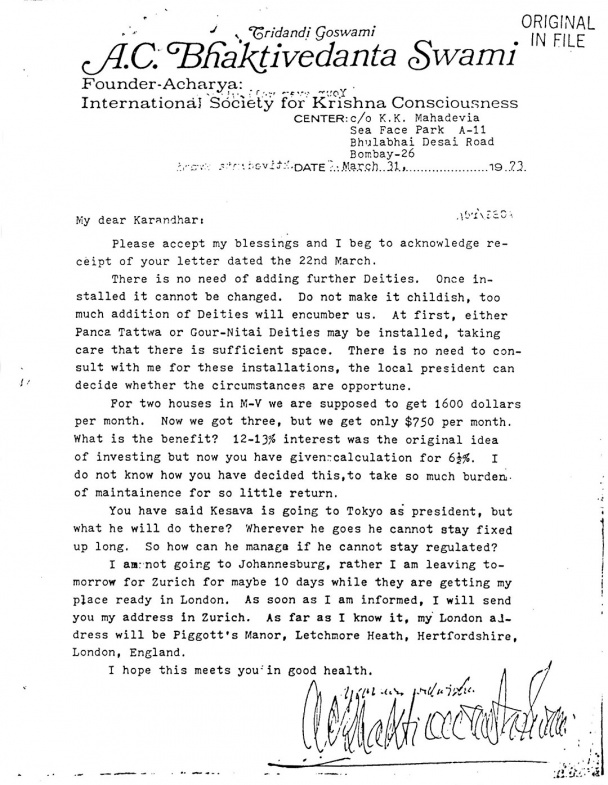 Tridandi Goswami
A.C. Bhaktivedanta Swami
Founder-Acharya:
International Society for Krishna Consciousness
CENTER: c/o K.K. Mahadevia
              Sea Face Park   A-11
              Bhulabhai Desai Road
              Bombay-26
DATE ...March...31,..................19.73.


My Dear Karandhar:
Please accept my blessings and I beg to acknowledge receipt of your letter dated the 22nd March.
There is no need of adding further Deities. Once installed it cannot be changed. Do not make it childish, too much addition of Deities will encumber us. At first, either Panca Tattwa or Gour-Nitai Deities may be installed, taking care that there is sufficient space. There is no need to consult with me for these installations, the local president can decide whether the circumstances are opportune.
For two houses in M-V we are supposed to get 1600 dollars per month. Now we got three, but we get only $750 per month. What is the benefit? 12-13% interest was the original idea of investing but now you have given calculation for 6 1/2%. I do not know how you have decided this, to take so much burden of maintenance for so little return.
You have said Kesava is going to Tokyo as president, but what he will do there? Wherever he goes he cannot stay fixed up long. So how can he manage if he cannot stay regulated?
I am not going to Johannesburg, rather I am leaving tomorrow for Zurich for maybe 10 days while they are getting my place ready in London. As soon as I am informed, I will send you my address in Zurich. As far as I know it, my London address will be Piggott's Manor, Letchmore Heath, Hertfordshire, London, England.
I hope this meets you in good health.