730218 - Letter to Nityananda written from Sydney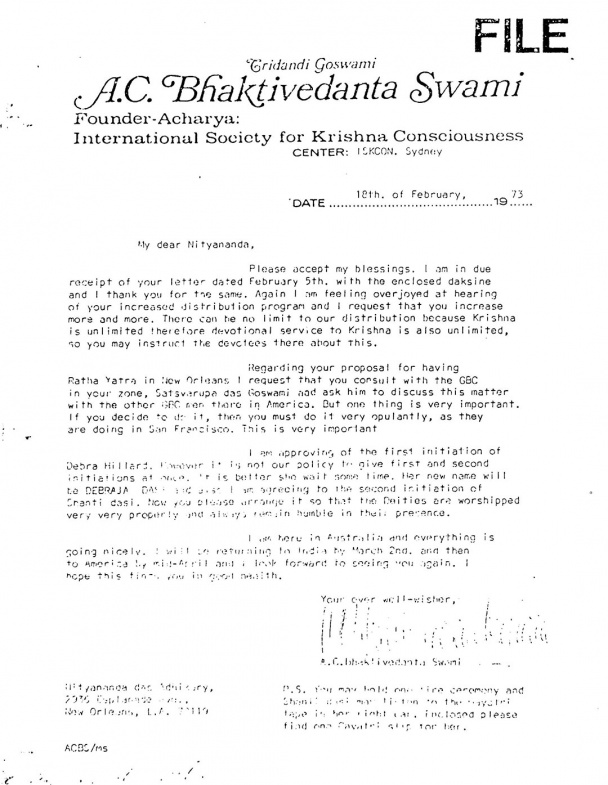 Tridandi Goswami
A.C. Bhaktivedanta Swami
Founder-Acharya:
International Society for Krishna Consciousness
CENTER: ISKCON, Sydney


DATE ........ 18th..of..February,.........19.73...

My dear Nityananda,
Please accept my blessings. I am in due receipt of your letter dated February 5th. with the enclosed daksine and I thank you for the same. Again I am feeling overjoyed at hearing of your increased distribution program and I request that you increase more and more. There can be no limit to our distribution because Krishna is unlimited therefore devotional service to Krishna is also unlimited, so you may instruct the devotees there about this.
Regarding your proposal for having Ratha Yatra in New Orleans I request that you consult with the GBC in your zone, Satsvarupa das Goswami and ask him to discuss this matter with the other GBC men there in America. But one thing is very important. If you decide to do it, then you must do it very opulently, as they are doing in San Francisco. This is very important.
I am approving of the first initiation of Debra Hillard. However it is not our policy to give first and second initiations at once. It is better she wait some time. Her new name will be DEBRAJA DASI and also I am agreeing to the second initiation of Shanti dasi. Now you please arrange it so that the Deities are worshiped very very properly and always remain humble in their presence.
I am here in Australia and everything is going nicely. I will be returning to India by March 2nd. and then to America by mid-April and I look forward to seeing you again. I hope this finds you in good health.
Your ever well-wisher,



A.C. Bhaktivedanta Swami
P.S. You may hold one fire ceremony and Shanti dasi may listen to the Gayatri tape in her right ear. Enclosed please find one Gayatri slip for her.
Nityananda das Adhikary
2036 Esplanade Ave.,
New Orleans, L.A [unclear]

ACBS/sda