730211 - Letter to Guru-gauranga written from Melbourne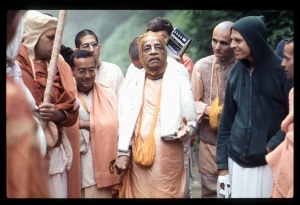 February 11, 1973

My Dear Guru Gauranga,
Please accept my blessings. I am in due receipt of you letter dated January 24th, and have noted the contents carefully. I am very much encouraged to hear of your increased Sankirtana movement and your return to Geneva to open up still another chapter in Lord Caitanya's conquest of the world. You may consult closely with Bhagavan das on all matters and he will give you good advice in this regard. As far as police problems are concerned, this is going on all over the world, especially here in Melbourne, they are being persecuted by the police. Even they are going to jail daily, but still they will not stop their chanting and distributing. When they go to jail, they refuse to eat the food, and in this way so much public sympathy is there. So eventually the police will accept us and our Sankirtana activities will go on unchecked. Simply we must have the determination to continue our preaching work under all circumstances.
The initiation of Bhakta Olaf das is duly approved by me and his new name is Asok Kumar. You may also have him send his beads along with a cover letter from you to Rebatinandan Swami, who is in London and has been authorized by me to chant on the beads. I hope this finds you in good health.
Your ever well-wisher,
A.C. Bhaktivedanta Swami.