730109 - Letter to Hariprasada written from Bombay
From Vanisource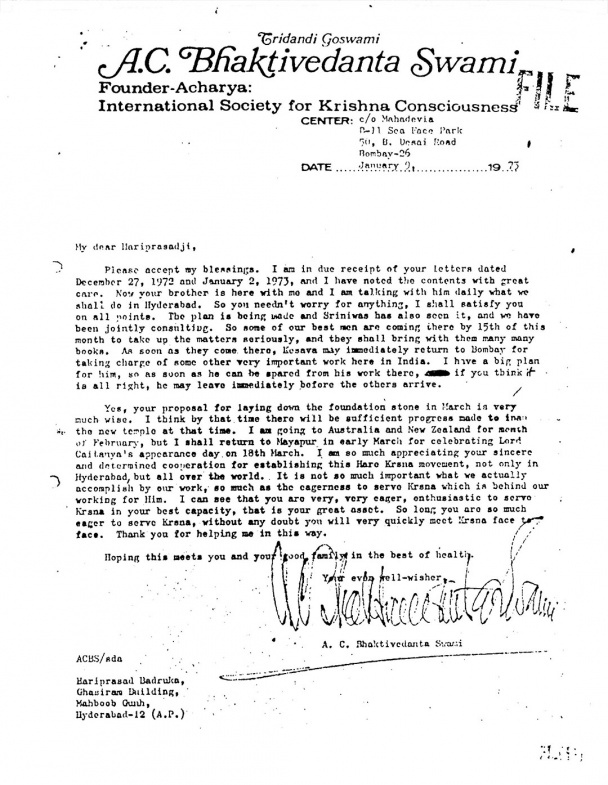 Tridandi Goswami
A.C. Bhaktivedanta Swami
Founder-Acharya:
International Society for Krishna Consciousness
CENTER: c/o Mahadevia
              B-11 Sea Face Park
              50-B Desai Road
              Bombay-26. India
DATE .........January..9,...................19..73


My dear Hariprasadji,
Please accept my blessings. I am in due receipt of your letters dated December 27, 1972 and January 2, 1973, and I have noted the contents with great care. Now your brother is here with me and I am talking with him daily what we shall do in Hyderabad. So you needn't worry for anything, I shall satisfy you on all points. The plan is being made and Sriniwas has also seen it, and we have been jointly consulting. So some of our best men are coming there by 15th of this month to take up the matters seriously, and they shall bring with them many many books. As soon as they come there, Kesava may immediately return to Bombay for taking charge of some other very important work here in India. I have a big plan for him, so as soon as he can be spared from his work there, if you think it is all right, he may leave immediately before the others arrive.
Yes, your proposal for laying down the foundation stone in March is very much wise. I think by that time there will be sufficient progress made to inaugurate the new temple at that time. I am going to Australia and New Zealand for month of February, but I shall return to Mayapur in early March for celebrating Lord Caitanya's appearance day on 18th March. I am so much appreciating your sincere and determined cooperation for establishing this Hare Krsna movement, not only in Hyderabad, but all over the world. It is not so much important what we actually accomplish by our work, so much as the eagerness to serve Krsna which is behind our working for Him. I can see that you are very, very eager, enthusiastic to serve Krsna in your best capacity, that is your great asset. So long you are so much eager to serve Krsna, without any doubt you will very quickly meet Krsna face to face. Thank you for helping me in this way.
Hoping this meets you and your good family in the best of health.
Your ever well-wisher,



A.C. Bhaktivedanta Swami
ACBS/sda
Hariprasadji Badruka,
Ghasiram Building,
Mahboob Gunh,
Hyderabad-12 (A.P.)