721229 - Letter to Deva Mira written from Bombay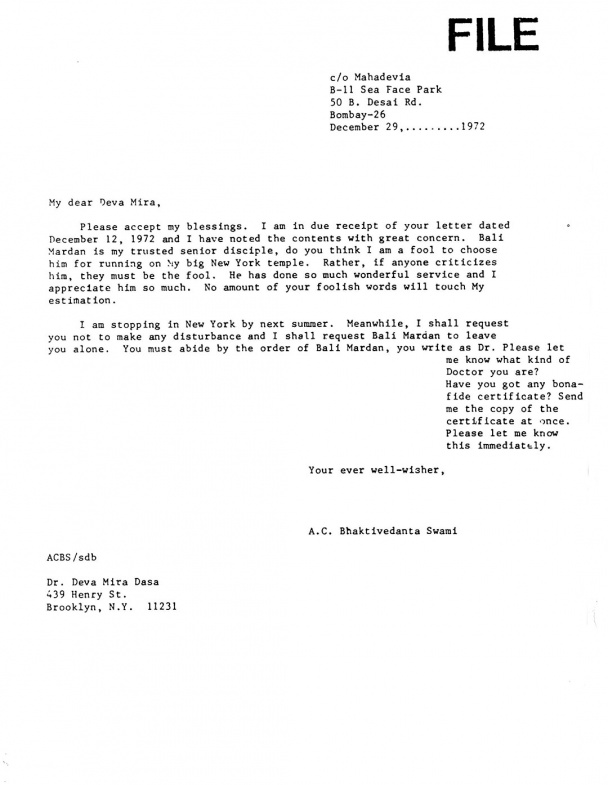 c/o Mahadevia
B-11 Sea Face Park
50-B Desai Rd.
Bombay-26
December 29,............1972




My dear Deva Mira,
Please accept my blessings. I am in due receipt of your letter dated December 12, 1972 and I have noted the contents with great concern. Bali Mardan is my trusted senior disciple, do you think I am a fool to choose him for running on My big New York temple. Rather, if anyone criticizes him, they must be the fool. He has done so much wonderful service and I appreciate him so much. No amount of your foolish words will touch my estimation.
I am stopping in New York by next summer. Meanwhile, I shall request you not to make any disturbance and I shall request Bali Mardan to leave you alone. You must abide by the order of Bali Mardan, you write as Dr. Please let me know what kind of Doctor you are? Have you got any bonafide certificate? Send me the copy of the certificate at once. Please let me know this immediately.
Your ever well-wisher,


A.C. Bhaktivedanta Swami

ACBS/sda
Dr. Deva Mira Dasa
439 Henry St.
Brooklyn, N.Y.   11231