721211 - Letter to Citsukhananda written from Ahmedabad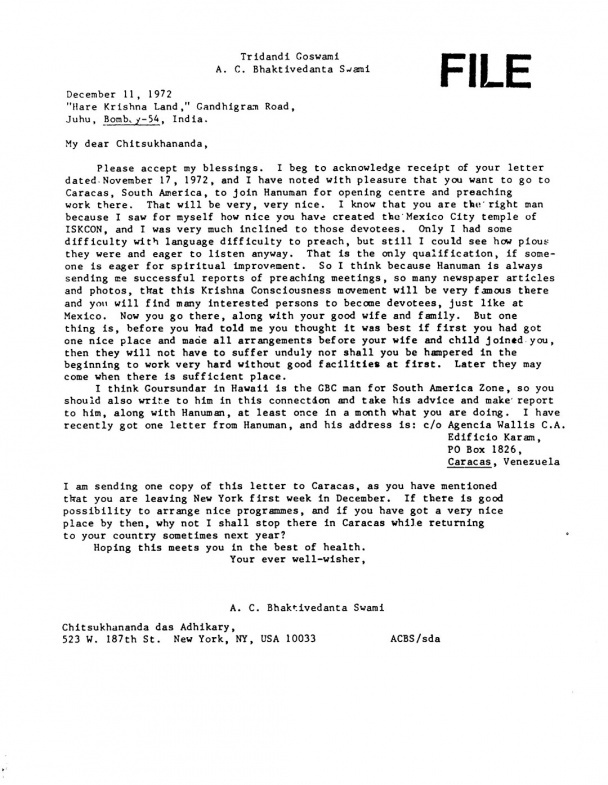 Tridandi Goswami
A.C. Bhaktivedanta Swami

December 11, 1972
"Hare Krishna Land," Gandhigram Road,
Juhu, Bombay-54, India
My dear Chitsukhananda,
Please accept my blessings. I beg to acknowledge receipt of your letter dated November 17, 1972, and I have noted with pleasure that you want to go to Caracas, South America, to join Hanuman for opening centre and preaching work there. That will be very, very nice. I know that you are the right man because I saw for myself how nice you have created the Mexico City temple of ISKCON, and I was very much inclined to those devotees. Only I had some difficulty with language difficulty to preach, but still I could see how pious they were and eager to listen anyway. That is the only qualification, if someone is eager for spiritual improvement. So I think because Hanuman is always sending me successful reports of preaching meetings, so many newspaper articles and photos, that this Krishna Consciousness movement will be very famous there and you will find many interested persons to become devotees, just like at Mexico. Now you go there, along with your good wife and family. But one thing is, before you had told me you thought it was best if first you had got one nice place and made all arrangements before your wife and child joined you, then they will not have to suffer unduly nor shall you be hampered in the beginning to work very hard without good facilities at first. Later they may come when there is sufficient place.
I think Goursundar in Hawaii is the GBC man for South American Zone, so you should also write to him in this connection and take his advice and make report to him, along with Hanuman, at least once in a month what you are doing. I have recently got one letter from Hanuman, and his address is: c/o Agencia Wallis C. A.
Edificio Karam,
PO Box 1826,
Caracas, Venezuela.
I am sending one copy of this letter to Caracas, as you have mentioned that you are leaving New York first week in December. If there is good possibility to arrange nice programmes, and if you have got a very nice place by then, why not I shall stop there in Caracas while returning to your country sometimes next year?
Hoping this meets you in the best of health.
Your ever well-wisher,

A.C. Bhaktivedanta Swami
Chitsukhananda das Adhikary,
523 W. 187th St.   New York, NY. USA 10033               ACBS/sda