721118 - Letter to Rupanuga written from Hyderabad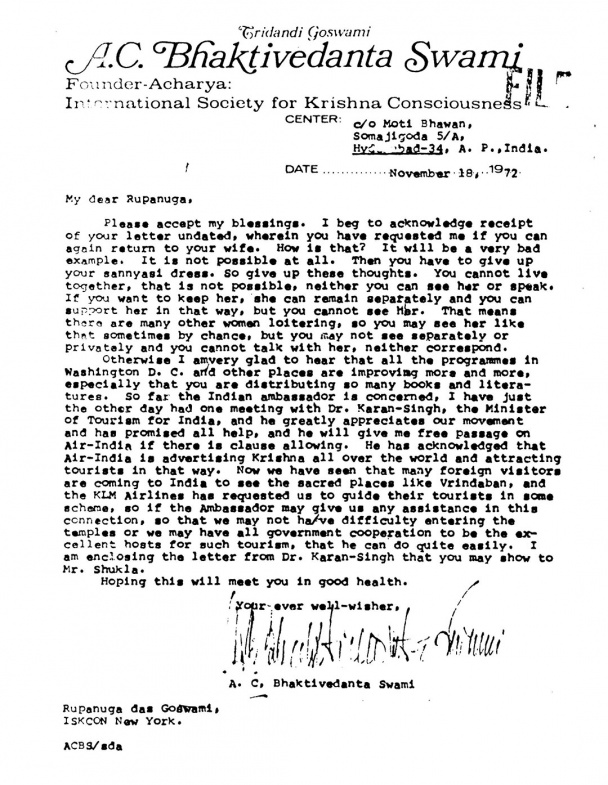 Tridandi Goswami
A.C. Bhaktivedanta Swami
Founder-Acharya:
International Society for Krishna Consciousness
CENTER:  c/o Moti Bhawan,
               Somajigoda 5/A.
               Hyderabad-34, A.F., India. New York
DATE .............November.18,..1972.


My dear Rupanuga,
Please accept my blessings. I beg to acknowledge receipt of your letter undated, wherein you have requested me if you can again return to your wife. How is that? It will be a very bad example. It is not possible at all. Then you have to give up your sannyasi dress. So give up these thoughts. You cannot live together, that is not possible, neither you can see her or speak. If you want to keep her, she can remain separately and you can support her in that way, but you cannot see her. That means there are many other women loitering, so you may see her like that sometimes by chance, but you may not see separately or privately and you cannot talk with her, neither correspond.
Otherwise I am very glad to hear that all the programmes in Washington D.C. and other places are improving more and more, especially that you are distributing so many books and literatures. So far the Indian ambassador is concerned, I have just the other day had one meeting with Dr. Karan-Singh, the Minister of Tourism for India, and he greatly appreciates our movement and has promised all help, and he will give me free passage on Air-India if there is clause allowing. He has acknowledged that Air-India is advertising Krishna all over the world and attracting tourists in that way. Now we have seen that many foreign visitors are coming to India to see the sacred places like Vrindaban, and the KLM Airlines has requested us to guide their tourists in some scheme, so if the Ambassador may give us any assistance in this connection, so that we may not have difficulty entering the temples or we may have all government cooperation to be the excellent hosts for such tourism, that he can do quite easily. I am enclosing the letter from Dr. Karan-Singh that you may show to Mr. Shukla.
Hoping this will meet you in good health.
Your ever well-wisher,



A.C. Bhaktivedanta Swami

Rupanuga das Goswami
ISKCON New York
ACBS/sda