721102 - Letter to Bhutatma and Kesava written from Vrndavana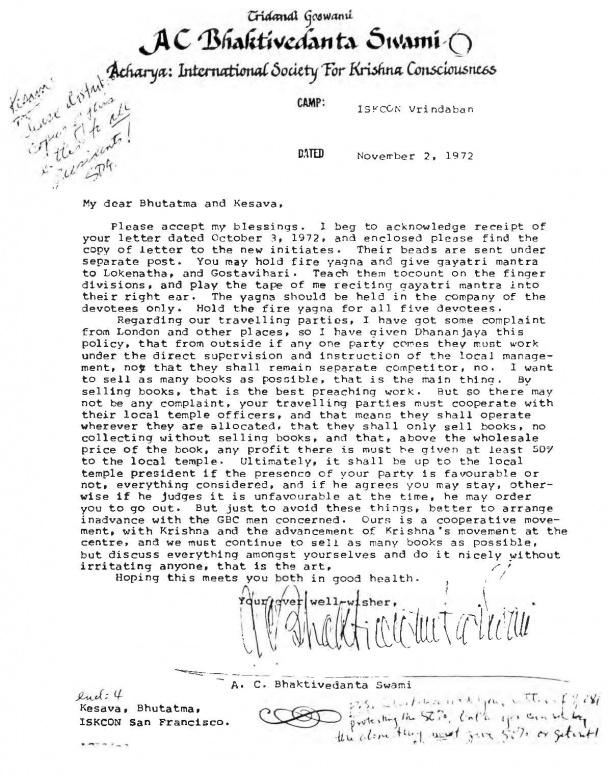 Tridandi Goswami
A.C. Bhaktivedanta Swami
Acharya: International Society for Krishna Consciousness


CAMP:       ISKCON Vrindaban

DATED       November 2, 1972


My dear Bhutatma and Kesava,
Please accept my blessings. I beg to acknowledge receipt of your letter dated October 3, 1972, and enclosed please find the copy of letter to the new initiates. Their beads are sent under separate post. You may hold fire yagna and give gayatri mantra to Lokenatha, and Gostavihari. Teach them to count on the finger divisions, and play the tape of me reciting gayatri mantra into their right ear. The yagna should be held in the company of the devotees only. Hold the fire yagna for all five devotees.
Regarding our travelling parties, I have got some complaint from London and other places, so I have given Dhananjaya this policy, that from outside if any one party comes they must work under the direct supervision and instruction of the local management, not that they shall remain separate competitor, no. I want to sell as many books as possible, that is the main thing. By selling books, that is the best preaching work. But so there may not be any complaint, your travelling parties must cooperate with their local temple officers, and that means they shall operate wherever they are allocated, that they shall only sell books, no collecting without selling books, and that, above the wholesale price of the book, any profit there is must be given at least 50% to the local temple. Ultimately, it shall be up to the local temple president if the presence of your party is favourable or not, everything considered, and if he agrees you may stay, otherwise if he judges it is unfavorable at the time, he may order you to go out. But just to avoid these things, better to arrange in advance with the GBC men concerned. Ours is a cooperative movement, with Krishna and the advancement of Krishna's movement at the centre, and we must continue to sell as many books as possible, but discuss everything amongst yourselves and do it nicely without irritating anyone, that is the art.
Hoping this meets you both in good health.
Your ever well-wisher,



A.C. Bhaktivedanta Swami
encl: 4 [handwritten]
Kesava, Bhutatma ,
ISKCON San Francisco.
P.S. Just received your letter of 9/28 protesting the 50%, [unclear] the above. They must give 50% or get out! [handwritten]