720922 - Letter to Tamala Krishna, Subala, Gurudasa and Bhavananda written from Los Angeles
From Vanisource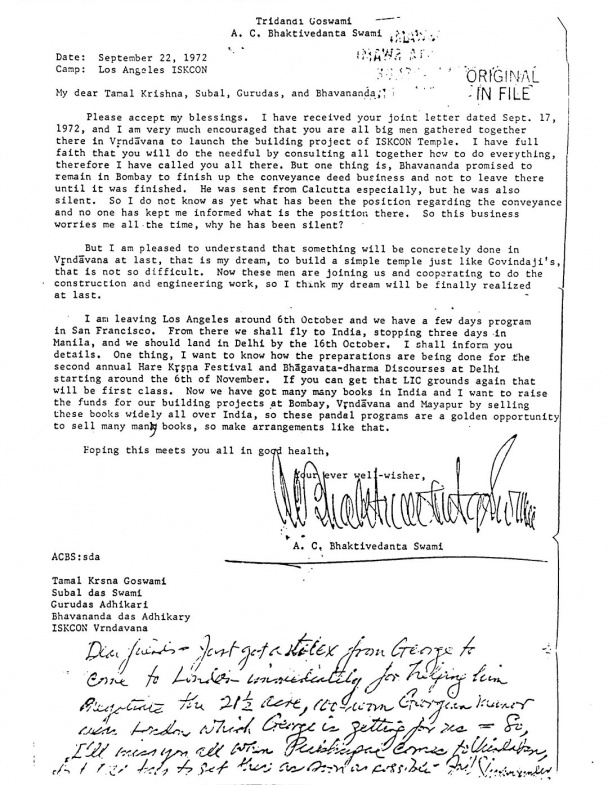 Tridandi Goswami
A.C. Bhaktivedanta Swami

Date:   September 22, 1972
Camp:  Los Angeles ISKCON
My dear Tamal Krishna, Subal, Gurudas, and Bhavananda,
Please accept my blessings. I have received your joint letter dated Sept. 17, 1972, and I am very much encouraged that you are all big men gathered together there in Vrndavana to launch the building project of ISKCON Temple. I have full faith that you will do the needful by consulting all together how to do everything, therefore I have called you all there. But one thing is Bhavananda promised to remain in Bombay to finish up the conveyance deed business and not to leave there until it was finished. He was sent from Calcutta especially, but he was also silent. So I do not know as yet what has been the position regarding the conveyance and no one has kept me informed what is the position there. So this business worries me all the time, why he has been silent?
But I am pleased to understand that something will be concretely done in Vrndavana at last, that is my dream, to build a simple temple just like Govindaji's that is not so difficult. Now these men are joining us and cooperating to do the construction and engineering work, so I think my dreams will be finally realized at last.
I am leaving Los Angeles around 6th October and we have a few days program in San Francisco. From there we shall fly to India, stopping three days in Manila, and we should land in Delhi by the 16th October. I shall inform you details. One thing, I want to know how the preparations are being done for the second annual Hare Krsna Festival and Bhagavata-dharma Discourses at Delhi starting around the 6th of November. If you can get that LIC grounds again that will be first class. Now we have got many many books in India and I want to raise the funds for our building projects at Bombay, Vrndavana and Mayapur by selling these books widely all over India, so these pandal programs are a golden opportunity to sell many many books, so make arrangements like that.
Hoping this meets you all in good health,
Your ever well-wisher,



A.C. Bhaktivedanta Swami
ACBS/sda
Tamal Krishna Goaswami
Subal das Swami
Gurudas Adhikari
Bhavananda das Adhikary
ISKCON Vrndavana