Radharani

Krishna

Caitanya

God

God's Holy Names

Krishna Consciousness Movement

Who Is Srila Prabhupada

his Timeline

Months in his Life

Training his Disciples

Questions

Bhagavad-gita

Devotees of God

Devotional Service to God

Discipleship

Guru / Acharya

Essential Subjects

Nectar Drops

What's in Vanipedia now

Glorious Personalities

Yoga

Collaborate with us to invoke and fully manifest Srila Prabhupada's Vani-presence.
---
720918 - Letter to Niranjana written from Los Angeles
From Vanisource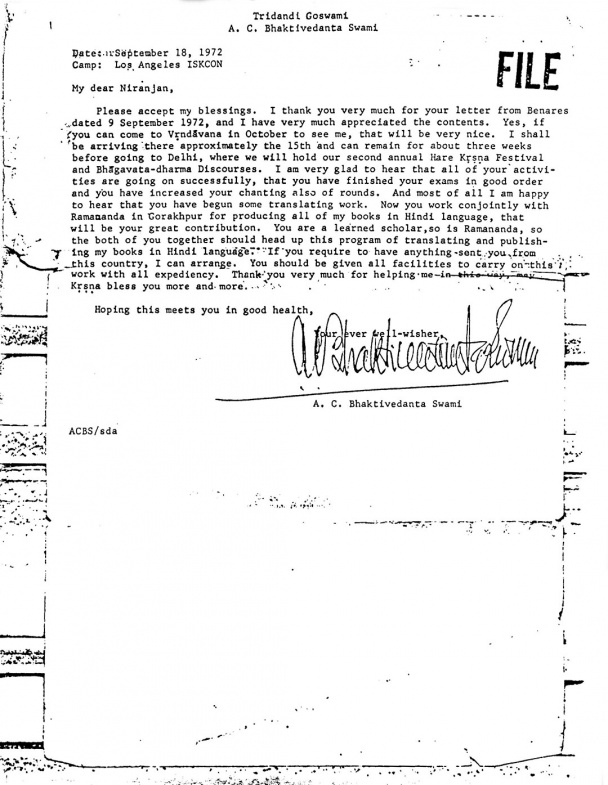 Tridandi Goswami
A.C. Bhaktivedanta Swami
September 18, 1972
My Dear Niranjan,
Please accept my blessings. I thank you very much for your letter from Benares dated 9 September 1972, and I have very much appreciated the contents. Yes, if you can come to Vrndavana in October to see me, that will be very nice. I shall be arriving there approximately the 15th and can remain for about three weeks before going to Delhi, where we will hold our second annual Hare Krsna Festival and Bhagavata-dharma Discourses. I am very glad to hear that all of your activities are going on successfully, that you have finished your exams in good order and you have increased your chanting also of rounds. And most of all I am happy to hear that you have begun some translating work. Now you work conjointly with Ramananda in Gorakhpur for producing all of my books in Hindi language, that will be your great contribution. You are a learned scholar, so is Ramananda, so the both of you together should head up this program of translating and publishing my books in Hindi language. If you require to have anything sent you from this country, I can arrange. You should be given all facilities to carry on this work with all expediency. Thank you very much for helping me in this way, may Krsna bless you more and more.
Hoping this meets you in good health,
Your ever well-wisher,
[signed]
A.C. Bhaktivedanta Swami
ACBS/sda