720918 - Letter to Govinda dasi written from Los Angeles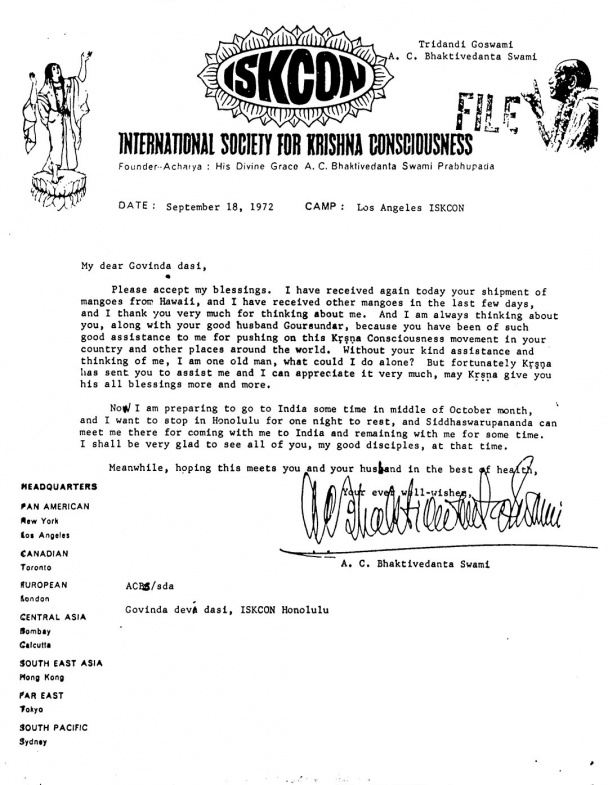 Tridandi Goswami
A.C. Bhaktivedanta Swami
ISKCON
INTERNATIONALE SOCIETY FOR KRISHNA CONSCIOUSNESS
Founder-Acharya: His Divine Grace A.C. Bhaktivedanta Swami Prabhupada

DATE:   September 18, 1972       CAMP:   Los Angeles ISKCON


My dear Govinda dasi,
Please accept my blessings. I have received again today your shipment of mangoes from Hawaii, and I have received other mangoes in the last few days, and I thank you very much for thinking about me. And I am always thinking about you, along with your good husband Goursundar, because you have been of such good assistance to me for pushing on this Krsna Consciousness movement in your country and other places around the world. Without your kind assistance and thinking of me, I am one old man, what could I do alone? But fortunately Krsna has sent you to assist me and I can appreciate it very much, may Krsna give you his all blessings more and more.
Now I am preparing to go to India some time in middle of October month, and I want to stop in Honolulu for one night to rest, and Siddhaswarupananda can meet me there for coming with me to India and remaining with me for some time. I shall be very glad to see all of you, my good disciples, at that time.
Meanwhile, hoping this meets you and your husband in the best of health.
Your ever well-wisher,


A.C. Bhaktivedanta Swami

ACBS/sda
Govinda devi dasi, ISKCON Honolulu

HEADQUARTERS
PAN AMERICAN
New York
Los Angeles
CANADIAN
Toronto
EUROPEAN
London
CENTRAL ASIA
Bombay
Calcutta
SOUTH EST ASIA
Hong Kong
FAR EAST
Tokyo
SOUTPACIFIC
Sydney