720915 - Letter to Cyavana written from Los Angeles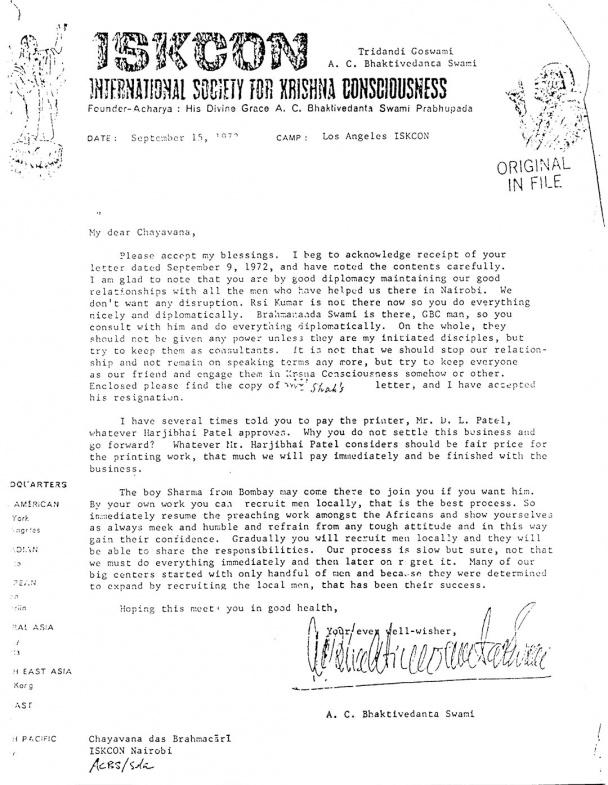 ISKCON
Tridandi Goswami
A.C. Bhaktivedanta Swami
INTERNATIONAL SOCIETY FOR KRISHNA CONSCIOUSNESS
Founder-Acharya : His Divine Grace A. C. Bhaktivedanta Swami Prabhupada

DATE:   September 13, 1972       CAMP:  Los Angeles




My dear Chayavana,
Please accept my blessings. I beg to acknowledge receipt of your letter dated September 9, 1972, and have noted the contents carefully. I am glad to note that you are by good diplomacy maintaining our good relationships with all the men who have helped us there in Nairobi. We don't want any disruption. Rsi Kumar is not there now so you do everything nicely and diplomatically. Brahmananda Swami is there, GBC man, so you consult with him and do everything diplomatically. On the whole, they should not be given any power unless they are my initiated disciples, but try to keep them as consultants. It is not that we should stop our relationship and not remain on speaking terms any more but try to keep everyone as our friend and engage them in Kṛṣṇa Consciousness somehow or other. Enclosed please find the copy of Mr. Shah's [handwritten] letter, and I have accepted his resignation.
I have several times told you to pay the printer, Mr. D. L. Patel, whatever Harjibhai Patel approves. Why you do not settle this business and go forward? Whatever Mr. Harjibhai Patel considers should be fair price for the printing work, that much we will pay immediately and be finished with the business.
The boy Sharma from Bombay may come there to join you if you want him. By your own work you can recruit men locally, that is the best process. So immediately resume the preaching work amongst the Africans and show yourselves as always meek and humble and refrain from a tough attitude and in this way gain their confidence. Gradually you will recruit men locally and they will be able to share the responsibilities. Our process is slow but sure, not that we must do everything immediately and then later on regret it. Many of our big centers started with only a handful of men and because they were determined to expand by recruiting the local men, that has been their success.
Hoping this meets you in good health.
Your ever well-wisher,



A.C. Bhaktivedanta Swami

Chayavana das Brahmacārī
ISKCON Nairobi
ACBS/sda [handwritten]
HEADQUARTERS
PAN AMERICAN
New York
Los Angeles
CANADIAN
Toronto
EUROPEAN
[unclear]
BERLIN
CENTRAL ASIA
Bombay
Calcutta
SOUTH EST ASIA
Hong Kong
FAR EAST
Tokyo
SOUTPACIFIC
Sydney