720824 - Letter to Satsvarupa written from Los Angeles
From Vanisource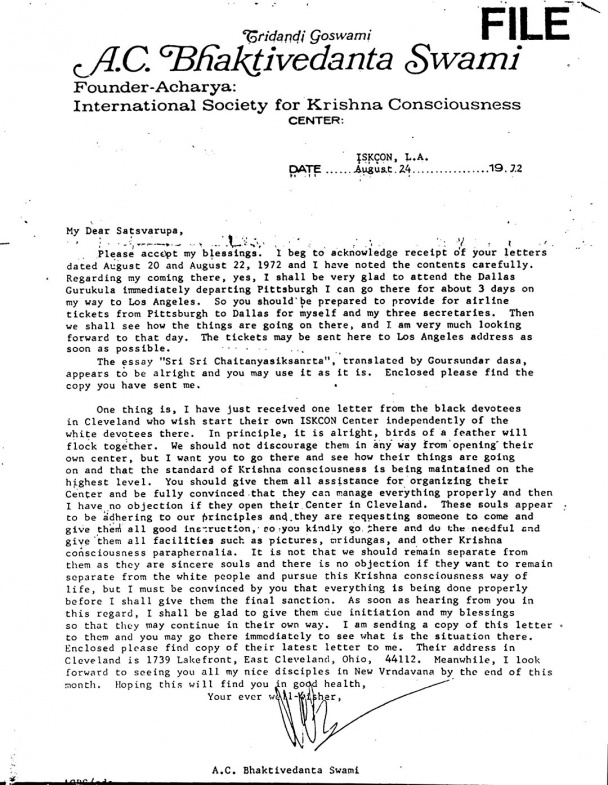 Tridandi Goswami
A.C. Bhaktivedanta Swami
Founder-Acharya:
International Society for Krishna Consciousness
CENTER:

                ISKCON L.A.
DATE .......August.24.................19.72



My Dear Satsvarupa,
Please accept my blessings. I beg to acknowledge receipt of your letters dated August 20 and August 22, 1972 and I have noted the contents carefully. Regarding my coming there, yes, I shall be very glad to attend the Dallas Gurukula immediately departing Pittsburgh I can go there for about 3 days on my way to Los Angeles. So you should be prepared to provide for airline tickets from Pittsburgh to Dallas for myself and my three secretaries. Then we shall see how the things are going on there, and I am very much looking forward to that day. The tickets may be sent here to Los Angeles address as soon as possible.
The essay "Sri Sri Chaitanyasiksanrta", translated by Goursundar dasa, appears to be alright and you may use it as it is. Enclosed please find the copy you have sent me.
One thing is, I have just received one letter from the black devotees in Cleveland who wish start their own ISKCON Center independently of the white devotees there. In principle, it is alright, birds of a feather will flock together. We should not discourage them in any way from opening their own center, but I want you to go there and see how their things are going on and that the standard of Krishna consciousness is being maintained on the highest level. You should give them all assistance for organizing their Center and be fully convinced that they can manage everything properly and then I have no objection if they open their Center in Cleveland. These souls appear to be adhering to our principles and they are requesting someone to come and give them all good instruction, so you kindly go there and do the needful and give them all facilities such as pictures, mridungas, and other Krishna consciousness paraphernalia. It is not that we should remain separate from them as they are sincere souls and there is no objection if they want to remain separate from the white people and pursue this Krishna consciousness way of life, but I must be convinced by you that everything is being done properly before I shall be glad to give them the final sanction. As soon as hearing from you in this regard, I shall be glad to give them due initiation and my blessings so that they may continue in their own way. I am sending a copy of this letter to them and you may go there immediately to see what is the situation there. Enclosed please find copy of their latest letter to me. Their address in Cleveland is 1739 Lakefront, East Cleveland, Ohio, 44112. Meanwhile, I look forward to seeing you all my nice disciples in New Vrndavana by the end of this month. Hoping this will find you in good health,
Your ever well-wisher,
     

A.C. Bhaktivedanta Swami