720806 - Letter to Damodara written from London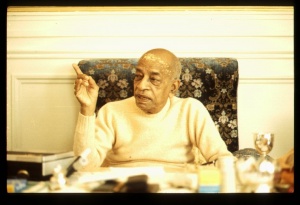 August 06, 1972

My Dear Damodara,
Please accept my blessings. I beg to acknowledge receipt of your letter dated July 30, 1972 and I have noted the contents carefully. Regarding your debt to the book fund and Back to Godhead fund and incense from 'Spiritual Sky', these debts must be paid, that is important business. Along with our preaching and propaganda work, we must also give attention to financial matters, otherwise the whole thing will collapse and it will be a farce. If there is good financial standing it is understood that Laksmi is favorable because her husband Narayana is being served nicely. If Laksmi is unfavorable, then we must increase our preaching efforts, and strive for pleasing the Supreme Personality of Godhead.
I am enclosing several documents relating to our food distribution program in India, and I have advised Rupanuga Goswami and Atreya Rsi to consult with you and the three of you shall approach important leaders there in Washington D.C. for getting foodstuffs and other substantial aid from your government. As I will be in that vicinity in September, if you arrange some meetings with some big government leaders there in Washington, I shall be happy to come down there from New Vrindaban.
So far your purchasing that building is concerned, if it is a great endeavor, how can you manage? If you have so many debts to the book fun and Spiritual Sky business, how can you take more debts to the book fund? We are not very much for owning buildings, our real business is to preach and propagate Krishna Consciousness widely. Washington D.C. is the capital of your country, and therefore it is a very strategic location for preaching amongst the nations leaders. Concentrate on this work, and the sankirtana and book distribution activities, and if you wait until there is solid financial basis before purchasing, what is the harm? But if we spend our whole time simply to earn money to pay for big, big buildings and decorations, what is the value? I am more interested in preachers than builders and decorators. But if you think you are able, and there is good opportunity, you may purchase, I have no objection. When I come there in September I can install the Jagannatha Deities if you invite me. If you can find eucalyptus twigs, you can send them to me wherever I am in the world, and I shall always have nice toothbrushes thanks to you. Eucalyptus is the best.
Hoping this will meet you in good health.
Your ever well-wisher,
A.C. Bhaktivedanta Swami