720709 - Letter to Ish Kumar Puri written from New York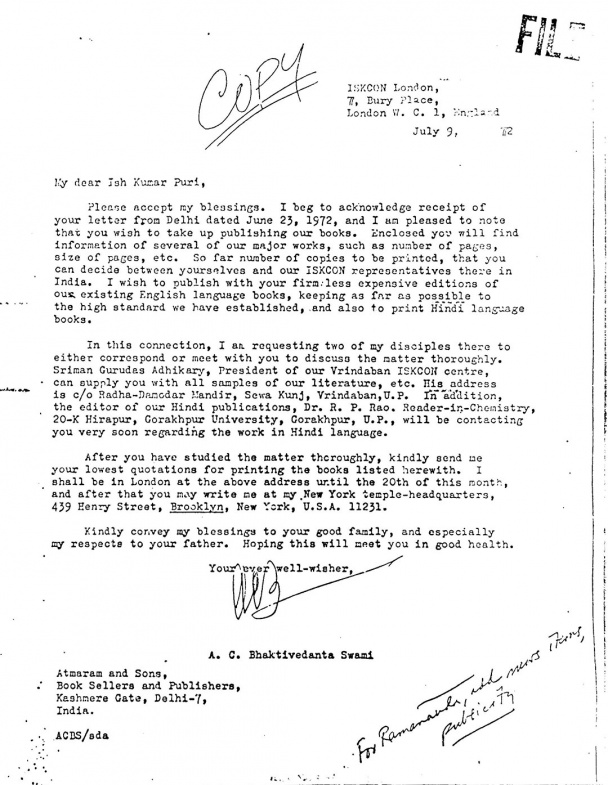 ISKCON London,
7, Bury Place
London, W. C. 1, England
July 9,         72



My dear Ish Kumar Puri,
Please accept my blessings. I beg to acknowledge receipt of your letter from Delhi dated June 23, 1972, and I am pleased to note that you wish to take up publishing our books. Enclosed you will find information of several of our major works, such as number of pages, size of pages, etc. So far number of copies to be printed, that you can decide between yourselves and our ISKCON representatives there in India. I wish to publish with your firm less expensive editions of our existing English language books, keeping as far as possible to the high standard we have established, and also to print Hindi language books.
In this connection, I am requesting two of my disciples there to either correspond or meet with you to discuss the matter thoroughly. Sriman Gurudas Adhikary, President of our Vrindaban ISKCON center, can supply you with all samples of our literature, etc. His address is c/o Radha-Damodar Mandir, Seva Kunj, Vrindaban, U.P. In addition, the editor of our Hindi publications, Dr. R. P. Rao, Reader-in-Chemistry, 20-K Hirapur, Gorakhpur University, Gorakhpur, U.P., will be contacting you very soon regarding the work in Hindi language.
After you have studied the matter thoroughly, kindly send me your lowest quotations for printing the books listed herewith. I shall be in London at the above address until the 20th of this month, and after that you may write me at my New York temple-headquarters, 439 Henry Street, Brooklyn, New York, U.S.A. 11231.
Kindly convey my blessings to your good family, and especially my respects to your father. Hoping this will meet you in good health.
Your ever well-wisher,
     


A.C. Bhaktivedanta Swami
Atmaram and Sons
Book Sellers and Publishers
Kashmere Gate, Delhi-7,
India.
ACBS/sda
For Ramananda, add news items, publicity [handwritten]