720612 - Letter to Tejiyas written from Los Angeles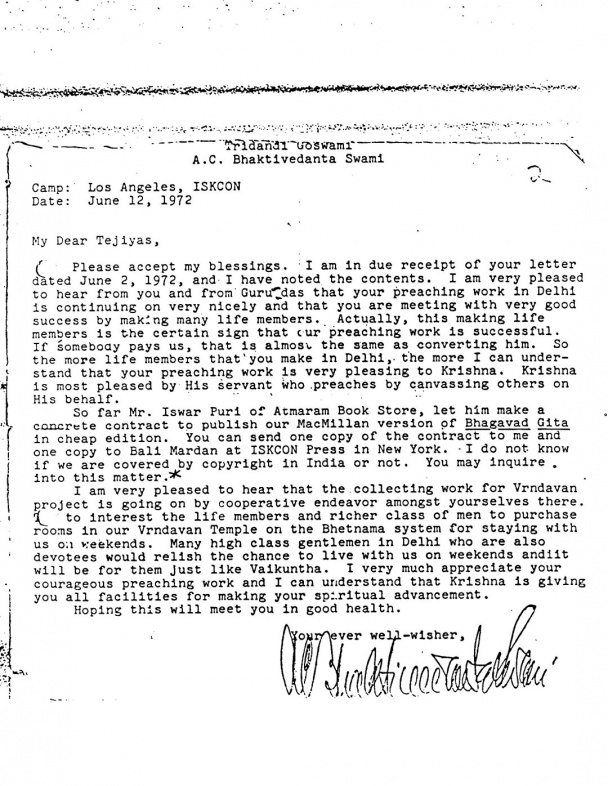 Tridandi Goswami
A.C. Bhaktivedanta Swami
Camp:     Los Angeles, ISKCON
Date:      June 12, 1972

My Dear Tejiyas,
Please accept my blessings. I am in due receipt of your letter dated June 2, 1972, and I have noted the contents. I am very pleased to hear from you and from Guru das that your preaching work in Delhi is continuing on very nicely and that you are meeting with very good success by making many life members. Actually, this making life members is the certain sign that our preaching work is successful. If somebody pays us, that is almost the same as converting him. So the more life members that you make in Delhi, the more I can understand that your preaching work is very pleasing to Krishna. Krishna is most pleased by His servant who preaches by canvassing others on His behalf.
So far Mr. Iswar Puri of Atmaram Book Store, let him make a concrete contract to publish our MacMillan version of Bhagavad Gita in cheap edition. You can send one copy of the contract to me and one copy to Bali Mardan at ISKCON Press in New York. I do not know if we are covered by copyright in India or not. You may inquire into this matter.*
I am very pleased to hear that the collecting work for Vrndavan project is going on by cooperative endeavor amongst yourselves there. [unclear] to interest the life members and richer class of men to purchase rooms in our Vrndavan Temple on the Bhetnama system for staying with us on weekends. Many high class gentlemen in Delhi who are also devotees would relish the chance to live with us on weekends and it will be for them just like Vaikuntha. I very much appreciate your courageous preaching work and I can understand that Krishna is giving you all facilities for making your spiritual advancement.
Hoping this will meet you in good health.
Your ever well-wisher,



[text missing]
A.C. Bhaktivedanta Swami
* For the time being, until we have seen the original contract with MacMillan Co., you may wait on this matter. I shall contact you further when I have seen if it is Possible.