720612 - Letter to Gurudasa written from Los Angeles
From Vanisource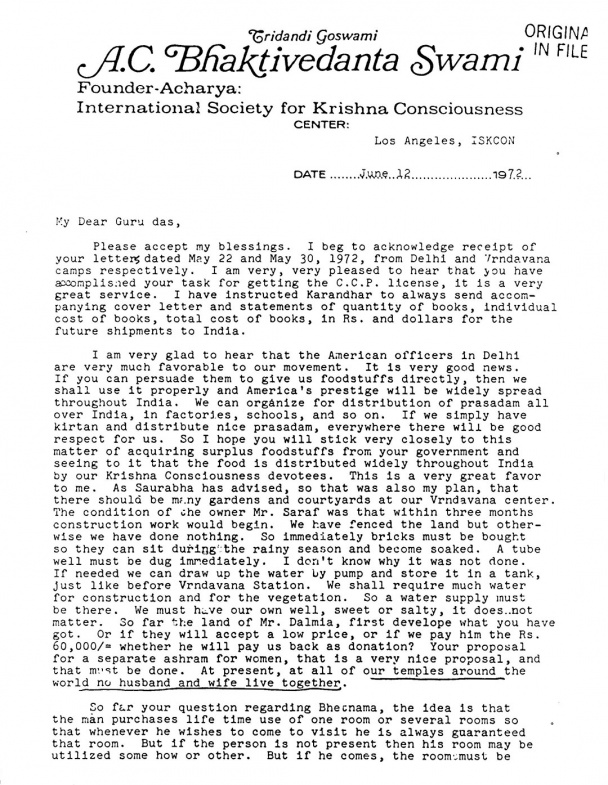 Tridandi Goswami
A.C. Bhaktivedanta Swami
Founder-Acharya:
International Society for Krishna Consciousness
CENTER:
                    Los Angeles, ISKCON

DATE ........June..12...................19.72..



My Dear Guru das,
Please accept my blessings. I beg to acknowledge receipt of your letters dated May 22 and May 30, 1972, from Delhi and Vrndavana camps respectively. I am very, very pleased to hear that you have accomplished your task for getting the C.C.P. license, it is a very great service. I have instructed Karandhar to always send accompanying cover letter and statements of quantity of books, individual cost of books, total cost of books, in Rs. and dollars for the future shipments to India.
I am very glad to hear that the American officers in Delhi are very much favorable to our movement. It is very good news. If you can persuade them to give us foodstuffs directly, then we shall use it properly and America's prestige will be widely spread throughout India. We can organize for distribution of prasadam all over India, in factories, schools, and so on. If we simply have kirtan and distribute nice prasadam, everywhere there will be good respect for us. So I hope you will stick very closely to this matter of acquiring surplus foodstuffs from your government and seeing to it that the food is distributed widely throughout India by our Krishna Consciousness devotees. This is a very great favor to me. As Saurabha has advised, so that was also my plan, that there should be many gardens and courtyards at our Vrndavana center. The condition of the owner Mr. Saraf was that within three months construction work would begin. We have fenced the land but otherwise we have done nothing. So immediately bricks must be bought so they can sit during the rainy season and become soaked. A tube well must be dug immediately. I don't know why it was not done. If needed we can draw up the water by pump and store it in a tank, just like before Vrndavana Station. We shall require much water for construction and for the vegetation. So a water supply must be there. We must have our own well, sweet or salty, it does not matter. So far the land of Mr. Dalmia, first develop what you have got. Or if they will accept a low price, or if we pay him the Rs. 60,000/- whether he will pay us back as donation? Your proposal for a separate ashram for women, that is a very nice proposal, and that must be done. At present, at all of our temples around the world no husband and wife live together.
So far your question regarding Bhetnama, the idea is that the man purchases lifetime use of one room or several rooms so that whenever he wishes to come to visit he is always guaranteed that room. But if the person is not present then his room may be utilized some how or other. But if he comes, the room must be vacated for him immediately. And the room is his for his lifetime only, it is not that anyone coming after him or his sons or family after his demise can use the room.
Now I understand that Ksirodaksayee is going to London soon, so in his absence you shall be the president and I think if Tejiyas is there, that he can be treasurer, or I have heard that Vaikunthanath is there, so if it is better arrangement, then he can be treasurer and your wife Yamuna devi, may act as secretary.
I understand from Yamuna that our Gaurachand Goswami feels still that we are unfit to render service to the Deity, so let him think like that, we don't care. We are worshiping Deity in 100 places and we become unfit in Radha Damodara? Why we are unfit. If you are beautiful Americans with good education and very pious and pure, and if you have got all qualities of Vaisnava, why you are not fit? We think we are quite fit.
When the construction work begins on our temple then we shall repair my rooms simultaneously or before as it is suitable. [handwritten]
Hoping this will meet you and your good wife and all of the others in good health.

A.C. Bhaktivedanta Swami

Guru dasa Adhikari c/o ISKCON Vrndavana
ACBS/sda