720528 - Letter to Balavanta written from Los Angeles
From Vanisource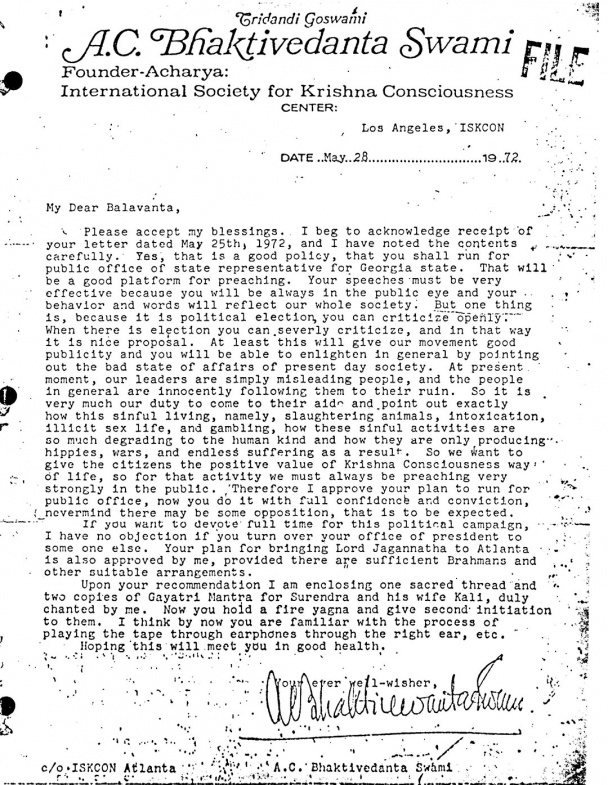 Tridandi Goswami
A.C. Bhaktivedanta Swami
Founder-Acharya:
International Society for Krishna Consciousness
CENTER:
                 Los Angeles, ISKCON
DATE ..May..28..................19..72.


My Dear Balavanta,
Please accept my blessings. I beg to acknowledge receipt of your letter dated May 25th, 1972, and I have noted the contents carefully. Yes, that is a good policy, that you shall run for public office of state representative for Georgia state. That will be a good platform for preaching. Your speeches must be very effective because you will be always in the public eye and your behavior and words will reflect our whole society. But one thing is, because it is political election, you can criticize openly. When there is election you can severly criticize, and in that way it is nice proposal. At least this will give our movement good publicity and you will be able to enlighten in general by pointing out the bad state of affairs of present day society. At present moment, our leaders are simply misleading people, and the people in general are innocently following them to their ruin. So it is very much our duty to come to their aide and point out exactly how this sinful living, namely, slaughtering animals, intoxication, illicit sex life, and gambling, how these sinful activities are so much degrading to the human kind and how they are only producing hippies, wars, and endless suffering as a result. So we want to give the citizens the positive value of Krishna consciousness way of life, so for that activity we must always be preaching very strongly in the public. Therefore I approve your plan to run for public office, now you do it with full confidence and conviction, never mind there may be some opposition, that is to be expected.
If you want to devote fully time for this political campaign, I have no objection if you turn over your office of president to someone else. Your plan for bringing Lord Jagannath to Atlanta is also approved by me, provided there are sufficient Brahmans and other suitable arrangements.
Upon your recommendation I am enclosing one sacred thread and two copies of Gayatri Mantra for Surendra and his wife Kali, duly chanted by me. Now you hold a fire yagna and give second initiation to them. I think by now you are familiar with the process of playing the tape through earphones through the right ear, etc.
Hoping this will meet you in good health.

A.C. Bhaktivedanta Swami
c/o ISKCON Atlanta