720521 - Letter to Ranadhira written from Los Angeles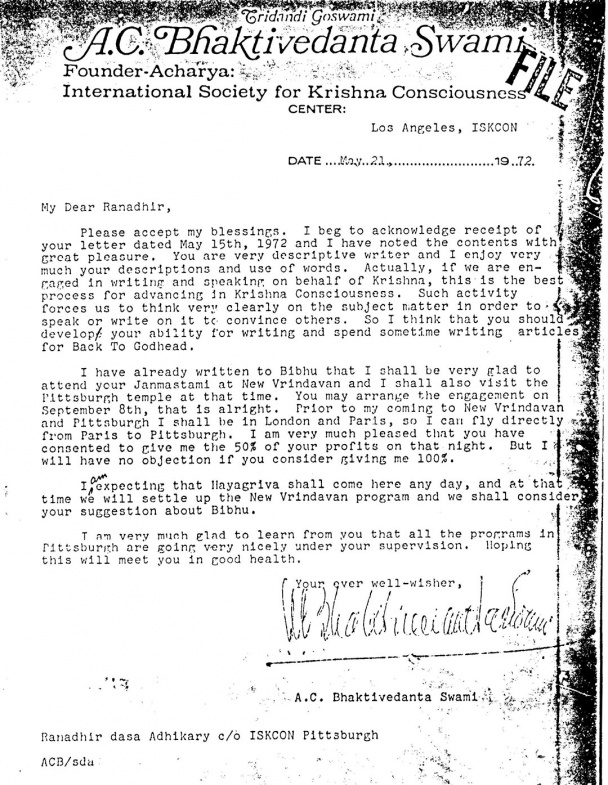 Tridandi Goswami
A.C. Bhaktivedanta Swami
Founder-Acharya:
International Society for Krishna Consciousness
CENTER:
                  Los Angeles, ISKCON

DATE ...May..21,...................19..72.


My Dear Ranadhir,
Please accept by blessings. I beg to acknowledge receipt of your letter dated May 15th, 1972 and I have noted the contents with great pleasure. You are very descriptive writer and I enjoy very much your descriptions and use of words. Actually, if we are engaged in writing and speaking on behalf of Krishna, this is the best process for advancing in Krishna Consciousness. Such activity forces us to think very clearly on the subject matter in order to speak or write on it to convince others. So I think that you should develop your ability for writing and spend sometime writing articles for Back To Godhead.
I have already written to Bibhu that I shall be very glad to attend your Janmastami at New Vrindavan and I shall also visit the Pittsburgh temple at that time. You may arrange the engagement on September 8th, that is alright. Prior to my coming to New Vrindavan and Pittsburgh I shall be in London and Paris, so I can fly directly from Paris to Pittsburgh. I am very much pleased that you have consented to give me the 50% of your profits on that night. But I will have no objection if you consider giving me 100%.
I am [handwritten] expecting that Hayagriva shall come here any day, and at that time we will settle up the New Vrindavan program and we shall consider your suggestion about Bibhu.
I am very much glad to learn from you that all the programs in Pittsburgh are going very nicely under your supervision. Hoping this will meet you in good health.
Your ever well-wisher,



A.C. Bhaktivedanta Swami

Ranadhir dasa Adhikary c/o ISKCON Pittsburgh
ACB/sda