720516 - Letter to Gurudasa and Yamuna written from Honolulu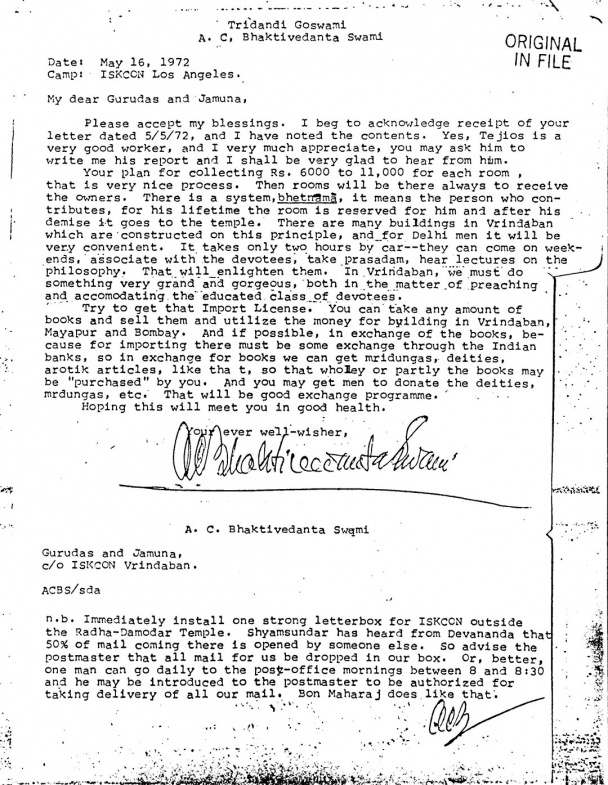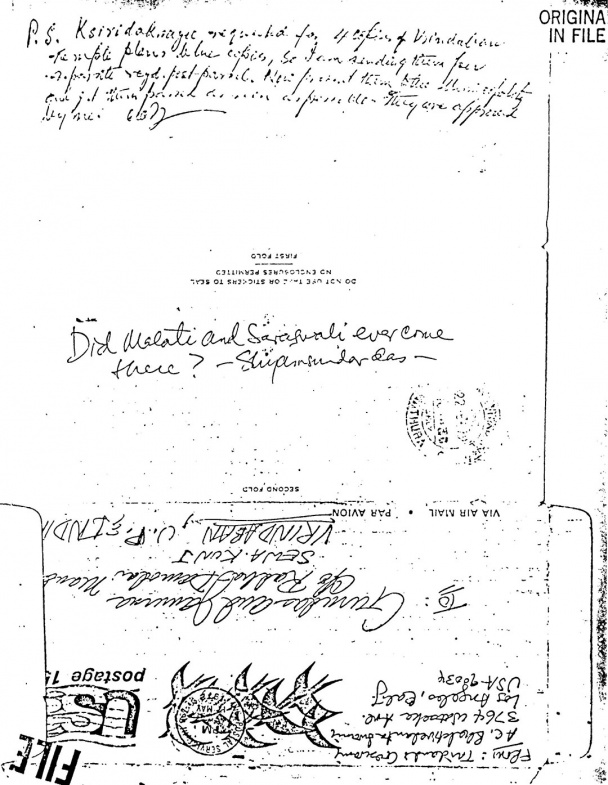 Tridandi Goswami
A. C. Bhaktivedanta Swami
Date:   May 16, 1972
Camp:  ISKCON Los Angeles
My dear Gurudas and Jamuna,
Please accept my blessings. I beg to acknowledge receipt of your letter dated 5/5/72, and I have noted the contents. Yes, Tejios is a very good worker, and I very much appreciate, you may ask him to write me his report and I shall be very glad to hear from him.
Your plan for collecting Rs. 6000 to 11,000 for each room, that is very nice process. Then rooms will be there always to receive the owners. There is a system, bhetnama, it means the person who contributes, for his lifetime the room is reserved for him and after his demise it goes to the temple. There are many buildings in Vrindaban which are constructed on this principle, and for Delhi men it will be very convenient. It takes only two hours by car--they can come on weekends, associate with the devotees, take prasadam, hear lectures on the philosophy. That will enlighten them. In Vrindaban, we must do something very grand and gorgeous, both in the matter of preaching and accommodating the educated class of devotees.
Try to get that Import License. You can take any amount of books and sell them and utilize the money for building in Vrindaban, Mayapur and Bombay. And if possible, in exchange of the books, because for importing there must be some exchange through the Indian banks, so in exchange for books we can get mridungas, deities, arotik articles, like that, so that wholly or partly the books may be "purchased" by you. And you may get men to donate the deities, mrdungas, etc. That will be good exchange programme.
Hoping this will meet you in good health.
Your ever well-wisher,



A. C. Bhaktivedanta Swami
Gurudas and Jamuna,
c/o ISKCON Vrindaban.
ACBS/sda
n.b. Immediately install one strong letterbox for ISKCON outside the Radha-Damodar Temple. Shyamsundar has heard from Devananda that 50% of mail coming there is opened by someone else. So advise the postmaster that all mail for us be dropped in our box. Or, better, one man can go daily to the post-office mornings between 8 and 8:30 and he may be introduced to the postmaster to be authorized for taking delivery of all our mail. Bon Maharaj does like that.

P.S Ksirodaksayee requested for 4 copies of Vrindaban Temple plans blue copies, so I am sending them per separate regd. post parcel. Now present them to the Municipality and get them passed as soon as possible. They are approved by me. [handwritten]
     






From: Tridandi Goswami
A.C. Bhaktivedanta Swami
3764 Watseka Ave.
Los Angeles, Calif
USA 90034 [handwritten]

To:   Gurudas and Jamuna
c/o Radha Damodar Mandir
SEVA KUNJ
VRINDABAN, U.P., IND [handwritten]