720514 - Letter to Jadurani written from Honolulu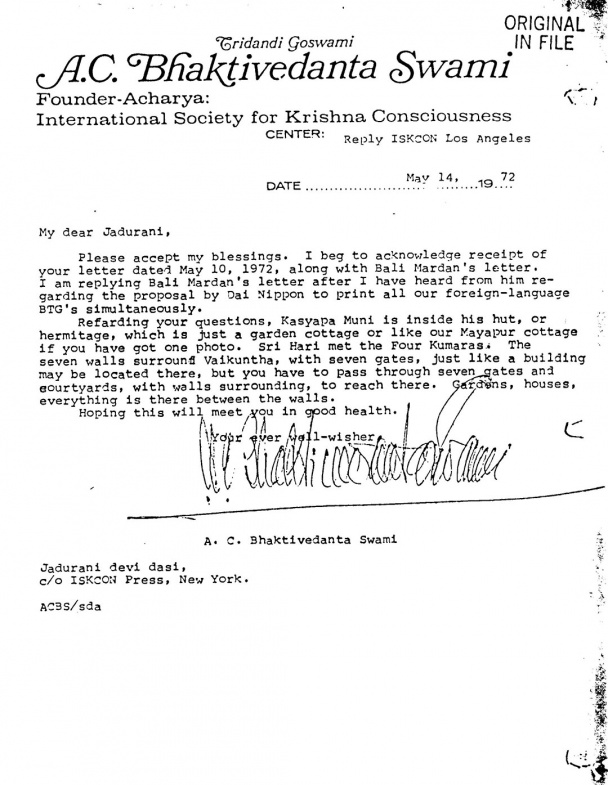 Tridandi Goswami
A.C. Bhaktivedanta Swami
Founder-Acharya:
International Society for Krishna Consciousness
CENTER:   Reply ISKCON Los Angeles

DATE .................May..14,....19..72


My dear Jadurani,
Please accept my blessings. I beg to acknowledge receipt of your letter dated May 10, 1972, along with Bali Mardan's letter. I am replying Bali Mardan's letter after I have heard from him regarding the proposal by Dai Nippon to print all our foreign-language BTG's simultaneously.
Regarding your questions, Kasyapa Muni is inside his hut, or hermitage, which is just a garden cottage or like our Mayapur cottage if you have got one photo. Sri Hari met the Four Kumaras. The seven walls surround Vaikuntha, with seven gates, just like a building may be located there, but you have to pass through seven gates and courtyards, with walls surrounding, to reach there. Gardens, houses, everything is there between the walls.
Hoping this will meet you in good health.
Your ever well-wisher,



A. C. Bhaktivedanta Swami

Jadurani devi dasi,
c/o ISKCON Press, New York.
ACBS/sda