720504 - Letter to Karandhara written from Tokyo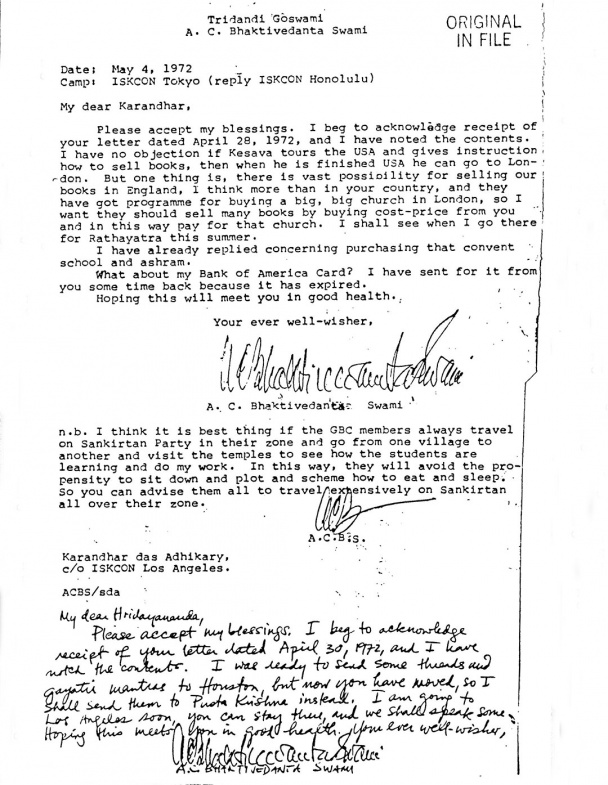 Tridandi Goswami
A.C. Bhaktivedanta Swami

Date:   May 4, 1972
Camp:  ISKCON Tokyo (reply ISKCON Honolulu)
My dear Karandhar,
Please accept my blessings. I beg to acknowledge receipt of your letter dated April 28, 1972, and I have noted the contents. I have no objection if Kesava tours the USA and gives instruction how to sell books, then when he is finished USA he can go to London. But one thing is, there is vast possibility for selling our books in England, I think more than in your country, and they have got programme for buying a big, big church in London, so I want they should sell many books by buying cost-price from you and in this way pay for that church. I shall see when I go there for Rathayatra this summer.
I have already replied concerning purchasing that convent school and ashram.
What about my Bank of America Card? I have sent for it from you some time back because it has expired.
Hoping this will meet you in good health.
Your ever well-wisher,



A.C. Bhaktivedanta Swami
n.b. I think it is best thing if the GBC members always travel on Sankirtan Party in their zone and go from one village to another and visit the temples to see how the students are learning and do my work. In this way, they will avoid the propensity to sit down and plot and scheme how to eat and sleep. So you can advise them all to travel extensively on Sankirtan all over their zone.
     


A.C.B.S.

Karandhar das Adhikary,
c/o ISKCON Los Angeles.
ACBS/SDA