720322 - Letter to Meenakatan written from Bombay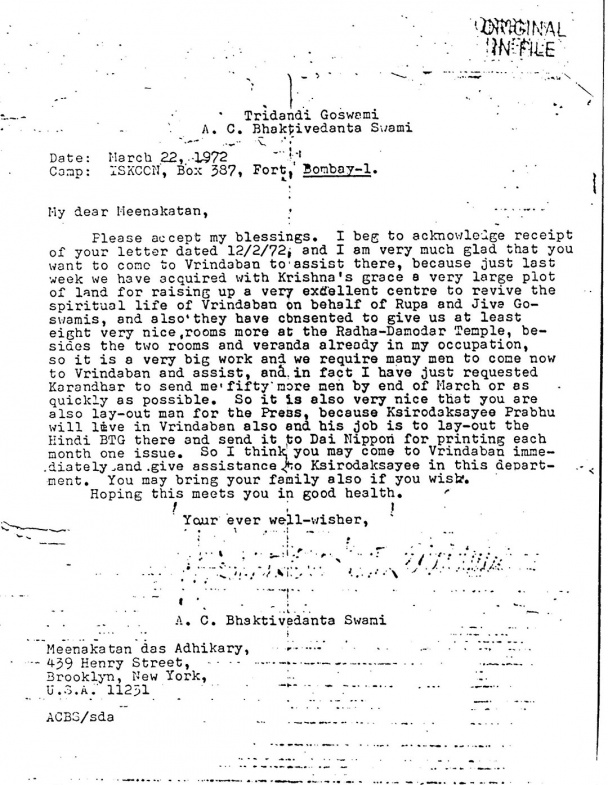 Tridandi Goswami
A. C. Bhaktivedanta Swami
Date:   March 22, 1972
Camp:  ISKCON Box 387, Fort, Bombay-1.

My dear Meenakatan,
Please accept my blessings. I beg to acknowledge receipt of your letter dated 12/2/72, and I am very much glad that you want to come to Vrindaban to assist there, because just last week we have acquired with Krishna's grace a very large plot of land for raising up a very excellent center to revive the spiritual life of Vrindaban on behalf of Rupa and Jiva Goswamis, and also they have consented to give us at least eight very nice rooms more at the Radha-Damodar Temple, besides the two rooms and veranda already in my occupation, so it is a very big work and we require many men to come now to Vrindaban and assist, and in fact I have just requested Karandhar to send me fifty more men by end of March or as quickly as possible. So it is also very nice that you are also lay-out man for the Press, because Ksirodaksayee Prabhu will live in Vrindaban also and his job is to lay-out the Hindi BTG there and send it to Dai Nippon for printing each month one issue. So I think you may come to Vrindaban immediately and give assistance to Ksirodaksayee in this department. You may bring your family also if you wish.
Hoping this meets you in good health.
Your ever well-wisher,



A.C. Bhaktivedanta Swami
Meenakatan das Adhikary
439 Henry Street,
Brooklyn, New York,
U.S.A.   11231
ACBS/sda