720312 - Letter to Billy Reyburne written from Vrndavana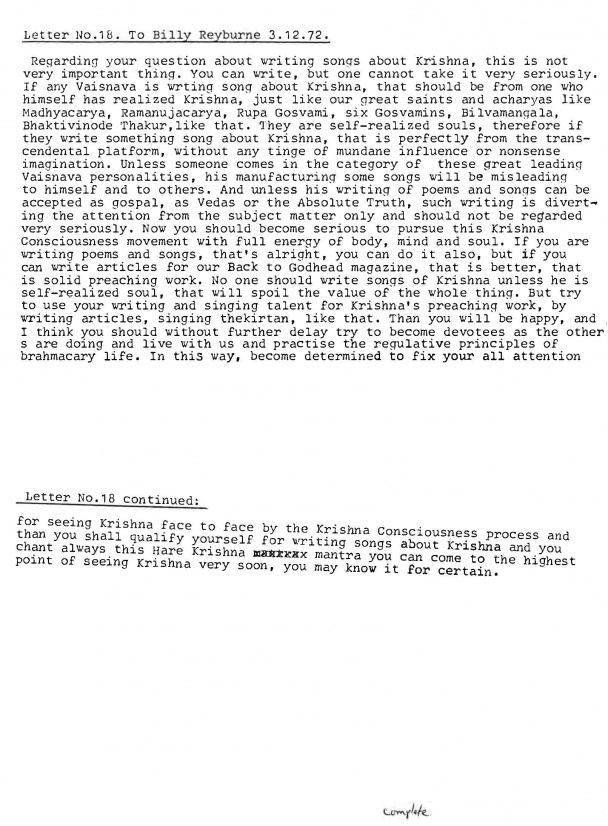 Letter No. 18. To Billy Reyburne 3.12.72.
Regarding your question about writing songs about Krishna, this is not very important thing. You can write, but one cannot take it very seriously. If any Vaisnava is writing song about Krishna, that should be from one who himself has realized Krishna, just like our great saints and acharyas like Madhyacarya, Ramanujacarya, Rupa Gosvami, six Gosvamis, Bilvamangala, Bhaktivinode Thakur, like that. They are self-realized souls, therefore if they write something song about Krishna, that is perfectly from the transcendental platform, without any tinge of mundane influence or nonsense imagination. Unless someone comes in the category of these great leading Vaisnava personalities, his manufacturing some songs will be misleading to himself and to others. And unless his writing of poems and songs can be accepted as gospel, as Vedas or the Absolute Truth, such writing is diverting the attention from the subject matter only and should not be regarded very seriously. Now you should become serious to pursue this Krishna Consciousness movement with full energy of body, mind and soul. If you are writing poems and songs, that's alright, you can do it also, but if you can write articles for our Back to Godhead magazine, that is better, that is solid preaching work. No one should write songs of Krishna unless he is self-realized soul, that will spoil the value of the whole thing. But try to use your writing and singing talent for Krishna's preaching work, by writing articles, singing the kirtan, like that. Then you will be happy, and I think you should without further delay try to become devotees as the others are doing and live with us and practise the regulative principles of brahmacary life. In this way, become determined to fix your all attention for seeing Krishna face to face by the Krishna Consciousness process and than you shall qualify yourself for writing songs about Krishna and you chant always this Hare Krishna mantra you can come to the highest point of seeing Krishna very soon, you may know it for certain.