720220 - Letter to Mr. Gerald J. Gross written from Calcutta
From Vanisource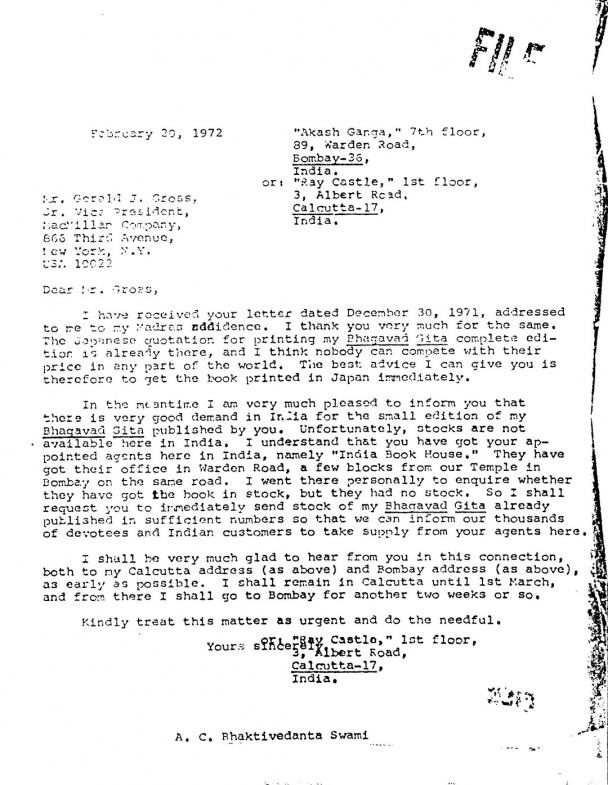 February 20, 1972
"Akash-Ganga,"7th floor,
89, Warden Road,
Bombay-36,
India
or "Ray Castle," 1st floor,
3, Albert Road,
Calcutta-17
India.
Mr. Gerald J. Roose,
Sr. Vice President,
MacMillar Company,
866 Third Avenue,
New York, N.Y.
USA 10022
Dear Mr. Gross,
I have received your letter dated December 30, 1971, addressed to me to my Madras residence. I thank you very much for the same. The Japanese quotation for printing my Bhagavad Gita complete edition is already there, and I think nobody can compete with their price in any part of the world. The best advice I an give you is therefore to get the book printed in Japan immediately.
In the meantime I am very much pleased to inform you that there is very good demand in India for the small edition of my Bhagavad Gita published by you. Unfortunately, stocks are not available here in India. I understand that you have got your appointed agents here in india, namely "India Book House." They have got their office in Warden Road, a few blocks from our Temple in Bombay on the same road. I went there personally to enquire whether they have got the book in stock, but they had no stock. So I shall request you to immediately send stock of my Bhagavad Gita already published in sufficient numbers so that we can inform our thousands of devotees and Indian customers to take supply from your agents here.
I shall be very much glad to hear from you in this connection, both to my Calcutta address (as above) and Bombay address (as above), as early as possible. I shall remain in Calcutta until 1st March, and from there I shall go to Bombay for another two weeks or so.
Kindly treat this matter as urgent and do the needful.
Yours sincerely,


A.C. Bhaktivedanta Swami
"Ray Castle," 1st floor,
3, Albert Road,
Calcutta-17,
India.