720205 - Letter to Puri Maharaj written from Bombay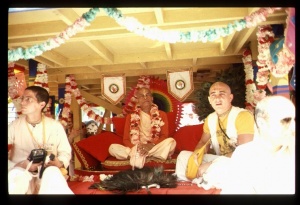 February 05, 1972

[handwritten] replied on 11/2/72
Camp:"Akash Ganga," 7th floor,
Bombay-36.

My dear Sripad Puri Maharaj,
Kindly accept my humble obeisances. I am just now returning from Africa, arriving here this morning at 4:30 am. I thank you very much for your letter dated February 1, 1972.
Our Madras programme has been fixed from 11th to 14th of this month, then on the 16th I shall be free to come to Vishakhapatnam along with a party of some of my American and foreign disciples. From Madras to Visakhapatnam will be much easier than to go to Calcutta and then again come back; besides, that it is quite probable that I shall be returning to Los Angeles the first week in March, visiting my Centres in Hong Kong, Sydney, Melbourne, Tokyo, and Honolulu on the way.
So you can make programme on this assurance, and let me know your decision, never mind there are some other saintly persons there. You may let me know c/o H.R. Mehra, 1, Rutland Gate, 1st Street, Madras-6.
One thing, from Visakhapatnam when I go to Calcutta you will have to accompany me along with your important assistants to help me to lay down the foundation-stone at Mayapur during the Appearance Day celebration of Lord Chaitanya Mahaprabhu. Before leaving India I wish to lay down the foundation-stone at Mayapur and immediately begin our building scheme there. So kindly help me with your good experience in this connection.
Hope this will meet you in good health,
Sincerely,
A.C. Bhaktivedanta Swami
Sri B. V. Puri Maharaj
Sri Krishna Chaitanya Mission
Aryapuram-Rajahmundry-1,
E. Godavari (A.P.)
ACBS/sda