720203 - Letter to Suresvara written from Nairobi
From Vanisource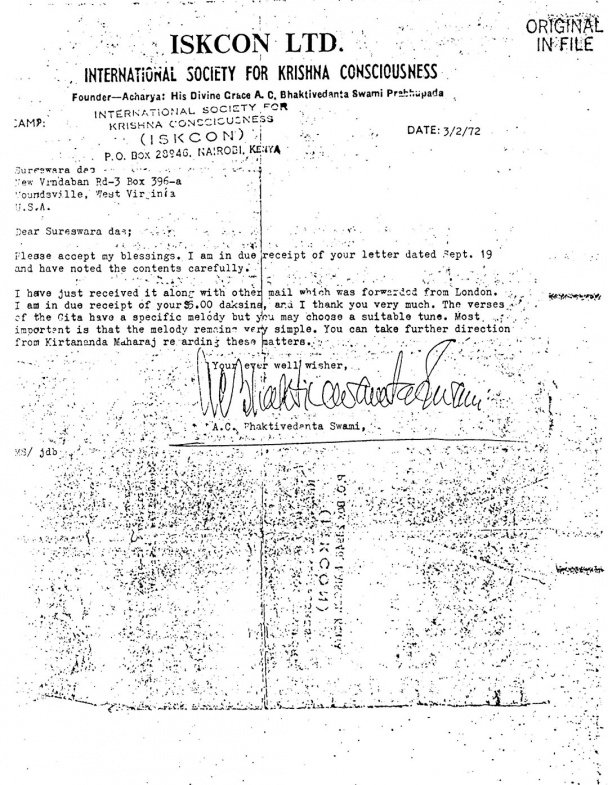 ISKCON LTD.
INTERNATIONAL SOCIETY FOR KRISHNA CONSCIOUSNESS
Founder-Acharya: His Divine Grace A.C. Bhaktivedanta Swami Prabhupada

CAMP:      INTERNATIONAL SOCIETY FOR
                  KRISHNA CONSCIOUSNESS
                       (ISKCON)
                 P.O. Box 28946, NAIROBI, KENYA
DATE:3/2/72
Sureswara das
New Vrndaban Rd-3 Box 396-a
Moundsville, West Virginia
U.S.A.
Dear Sureswara das;
Please accept my blessings. I am in due receipt of your letter dated Sept. 19 and have noted the contents carefully.
I have just received it along with other mail which was forwarded from London. I am in due receipt of your $5.00 daksina, and I thank you very much. The verses of the Gita have a specific melody but you may choose a suitable tune. Most important is that the melody remains very simple. You can take further direction from Kirtanananda Maharaj regarding these matters.
Your ever well-wisher,



A.C. Bhaktivedanta Swami

MS/jdb