720110 - Letter to Krishna dasa written from Bombay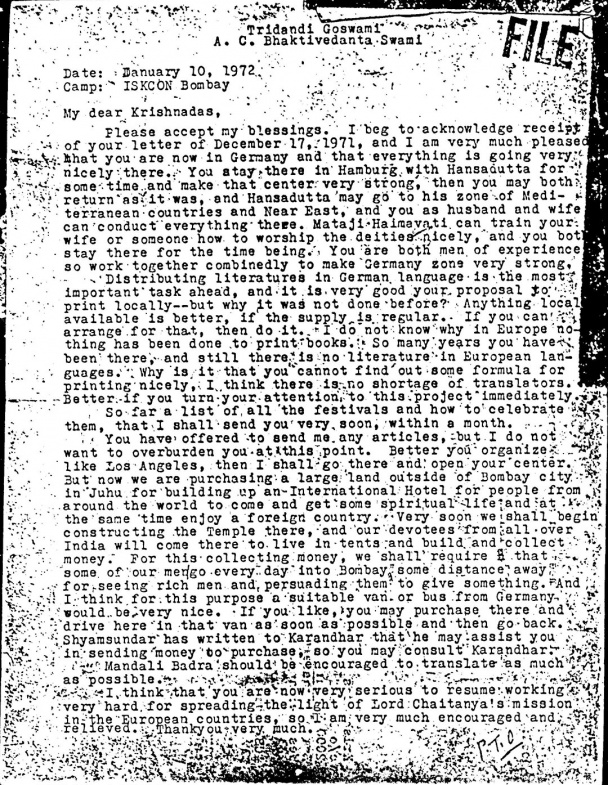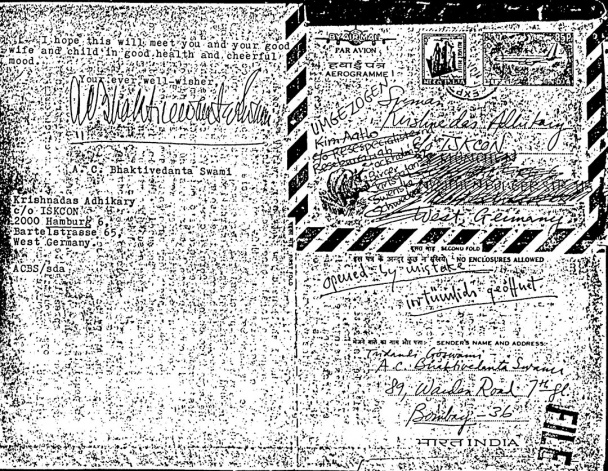 Tridandi Goswami
A.C. Bhaktivedanta Swami
Date:   January 10, 1972
Camp:  ISKCON Bombay
My dear Krishnadas,
Please accept my blessings. I beg to acknowledge receipt of your letter of December 17, 1971, and I am very much pleased that you are now in Germany and that everything is going very nicely there. You stay there in Hamburg with Hansadutta for some time and make that center very strong, then you may both return as it was, and Hansadutta may go to his zone of Mediterranean countries and Near East, and you as husband and wife can conduct everything there. Mataji Haimavati can train your wife or someone how to worship the deities nicely, and you both stay there for the time being. You are both men of experience so work together combinedly to make Germany zone very strong.
Distributing literatures in German language is the most important task ahead, and it is very good your proposal to print locally--but why it was not done before? Anything local available is better, if the supply is regular. If you can arrange for that, then do it. I do not know why in Europe nothing has been done to print books. So many years you have been there, and still there is no literature in European languages. Why is it that you cannot find out some formula for printing nicely, I think there is no shortage of translators. Better if you turn your attention to this project immediately.
So far a list of all the festivals and how to celebrate them, that I shall send you very soon, within a month.
You have offered to send me any articles, but I do not want to overburden you at this point. Better you organize like Los Angeles, then I shall go there and open your center. But now we are purchasing a large land outside of Bombay city in Juhu for building up an International Hotel for people from around the world to come and get some spiritual life and at the same time enjoy a foreign country. Very soon we shall begin constructing the Temple there, and our devotees from all over India will come there to live in tents and build and collect money. For this collecting money, we shall require that some of our men go every day into Bombay some distance away for seeing rich men and persuading them to give something. And I think for this purpose a suitable van or bus from Germany would be very nice. If you like, you may purchase there and drive here in that van as soon as possible and then go back. Shyamsundar has written to Karandhar that he may assist you in sending money to purchase, so you may consult Karandhar.
Mandali Bhadra should be encouraged to translate as much as possible.
I think that you are now very serious to resume working very hard for spreading the light of Lord Chaitanya's mission in the European countries, so I am very much encouraged and relieved. Thank you very much.

I hope this will meet you and your good wife and child in good health and cheerful mood.

A.C. Bhaktivedanta Swami

Krishnadas Adhikary
c/o ISKCON
2000 Hamburg 6,
Bartelstrasse 65,
West Germany
ACBS/sda
Sriman Krishnadas Adhikary
c/o ISKCON,
[unclear]
West Germany [handwritten]

Tridandi Goswami
A.C. Bhaktiveadnta Swami
89, [unclear] Road 7th fl.
Bombay - 36 [handwritten]