720106 - Letter to Puri Maharaj written from Bombay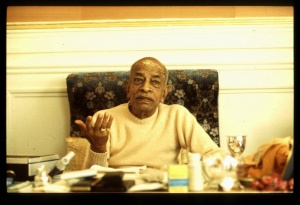 January 06, 1972

"Akash Ganga"
89 Warden Road
Bombay-36

My dear Sripad Puri Maharaj,
Kindly accept my respectful obeisances at your lotus feet. I have received your telegram. The Madras Program appears to be uncertain. I am going to Jaipur to attend a function from the 15th to 23rd. Then I am going to Africa to hold a function there. If you think I must go to Visakhapatan, then I will come back from Africa and go to your place. If so arrange for our reception from Bombay 5th to 12th February, 1972.
Yours affectionately,
A.C. Bhaktivedanta Swami
His Holiness Tridandi Goswami
B.V. Puri Maharaj,
Sri Krishna Chaitanya Maith,
Sri Krishna Nagar,
Visakhapatnam-2.
ACBS:tkd