720105 - Letter to Gargamuni written from Bombay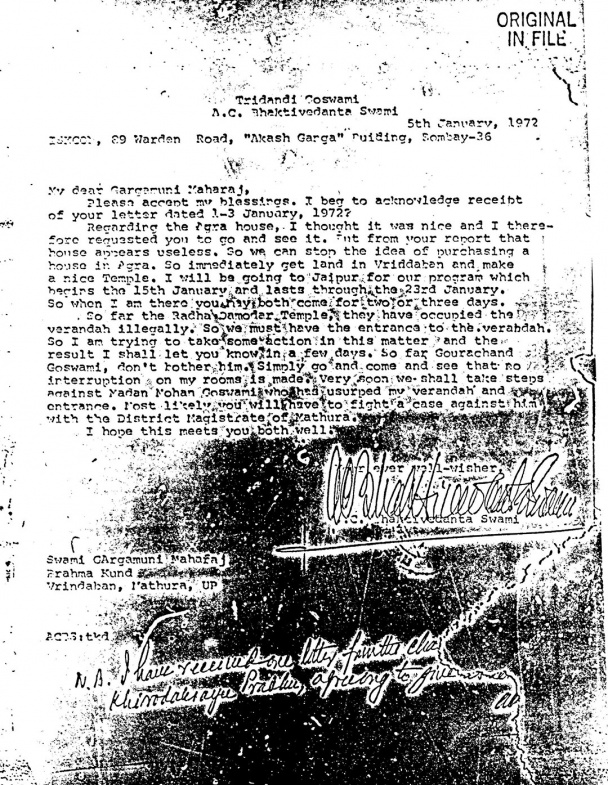 Tridandi Goswami
A.C. Bhaktivedanta Swami
5th January, 1972
ISKCON, 89 Warden Road, "Akash-Ganga" Building, Bombay-36.


My dear Gargamuni Maharaj,
Please accept my blessings. I beg to acknowledge receipt of your letter dated 1-3 January, 1972?
Regarding the Agra house, I thought it was nice and I therefore requested you to go and see it. But from your report that house appears useless. So we can stop the idea of purchasing a house in Agra. So immediately get land in Vrindaban and make a nice Temple. I will be going to Jaipur for our program which begins the 15th January and lasts through the 23rd January. So when I am there you may both come for two or three days.
So far the Radha Damodar Temple, they have occupied the verandah illegally. So we must have the entrance to the verandah. So I am trying to take some action in this matter and the result I shall let you know in a few days. So far Gourachand Goswami, don't bother him. Simply go and come and see that no interruption on my rooms is made. Very soon we shall take steps against Madan Mohan Goswami who has usurped my verandah and entrance. Most likely you will have to fight a case against him with the District Magistrate of Mathura.
I hope this meets you both well.

Your ever well-wisher,



A.C. Bhaktivedanta Swami

Swami Gargamuni Maharaj
Brahma Kund
Vrindaban, Mathura, UP

ACBS:tkd

N.B. I have received one letter from the __ Khirodakasayi Prabhu, agreeing to give [handwritten]