720101 - Letter to Gargamuni written from Bombay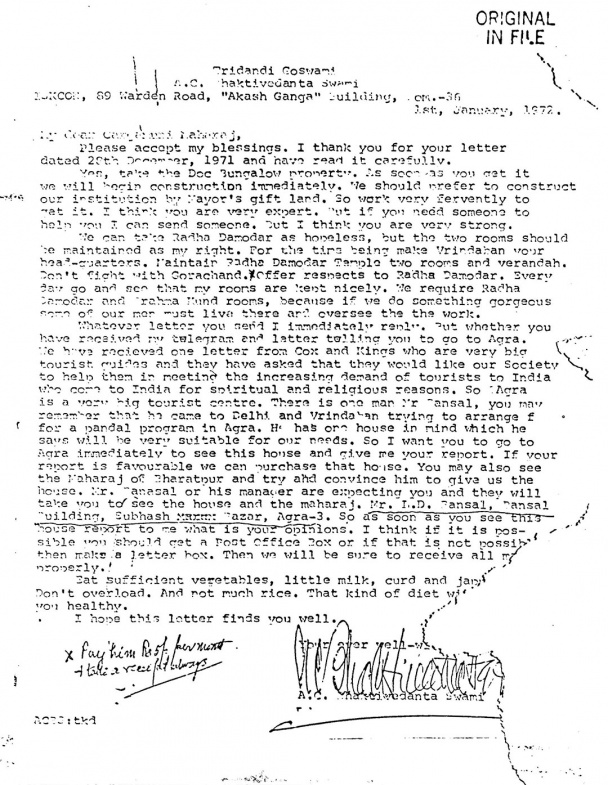 Tridandi Goswami
A.C. Bhaktivedanta Swami
ISKCON, 89 Warden Road, "Akash-Ganga" Building, Bombay-36
1st January, 1972.

My Dear Gargamuni Maharaj,
Please accept my blessings. I thank you for your letter dated 28th December, 1971 and have read it carefully.
Yes, take the Doc Bungalow property. As soon as you get it we will begin construction immediately. We should prefer to construct our institution by Mayor's gift land. So work very fervently to get it. I think you are very expert. But if you need someone to help you I can send someone. But I think you are very strong.
We can take Radha Damodar as hopeless, but the two rooms should be maintained as my right. For the time being make Vrindaban your headquarters. Maintain Radha Damodar Temple two rooms and verandah. Don't fight with Gorachand.* Offer respects to Radha Damodar. Every day go and see that my rooms are kept nicely. We require Radha Damodar and Brahma Kunda rooms, because if we do something gorgeous some of our men must live there and oversee the work.
Whatever letter you send I immediately reply. But whether you have received my telegram and letter telling you to go to Agra. We have received one letter from Cox and Kings who are very big tourist guides and they have asked that they would like our Society to help them in meeting the increasing demand of tourists to India who come to India for spiritual and religious reasons. So Agra is a very big tourist center. There is one man Mr. Bansal, you may remember that he came to Delhi and Vrindaban trying to arrange for a pandal program in Agra. He has one house in mind which he says will be very suitable for our needs. So I want you to go to Agra immediately to see this house and give me your report. If your report is favorable we can purchase that house. You may also see the Maharaj of Bharatapur and try and convince him to give us the house. Mr. Banasal or his manager are expecting you and they will take you to see the house and the maharaj. Mr. L. D. Bansal, Bansal Building, Subhash Bazar, Agra-3. So as soon as you see this house report to me what is your opinions. I think if it is possible you should get a Post Office Box or if that is not possible then make a letter box. Then we will be sure to receive all mail properly.
Eat sufficient vegetables, little milk, curd and [text missing] Don't overload. And not much rice. That kind of diet will [text missing] you healthy.
I hope this letter finds you well.
Your ever well-wisher,



A.C. Bhaktivedanta Swami
* Pay him Rs 5/- per month and take a receipt always [handwritten]

ACBS:tkd