711228 - Letter to Mukunda written from Bombay
From Vanisource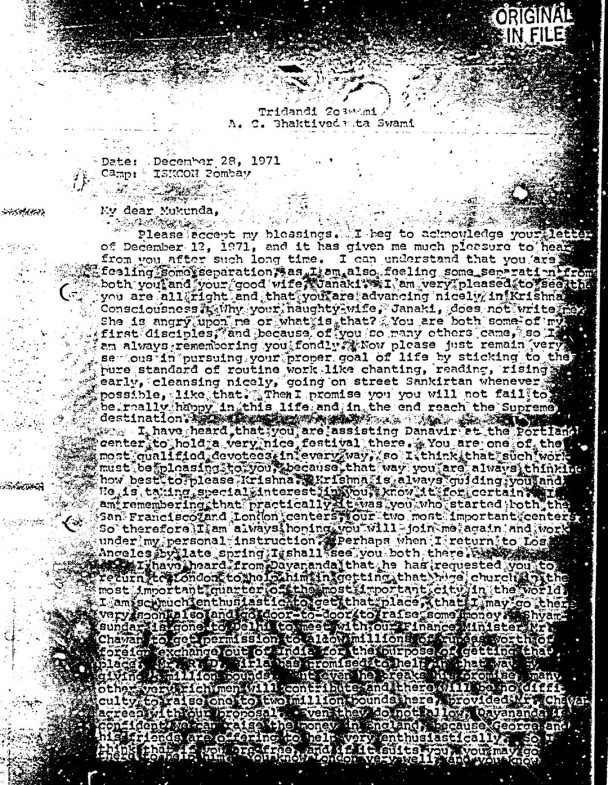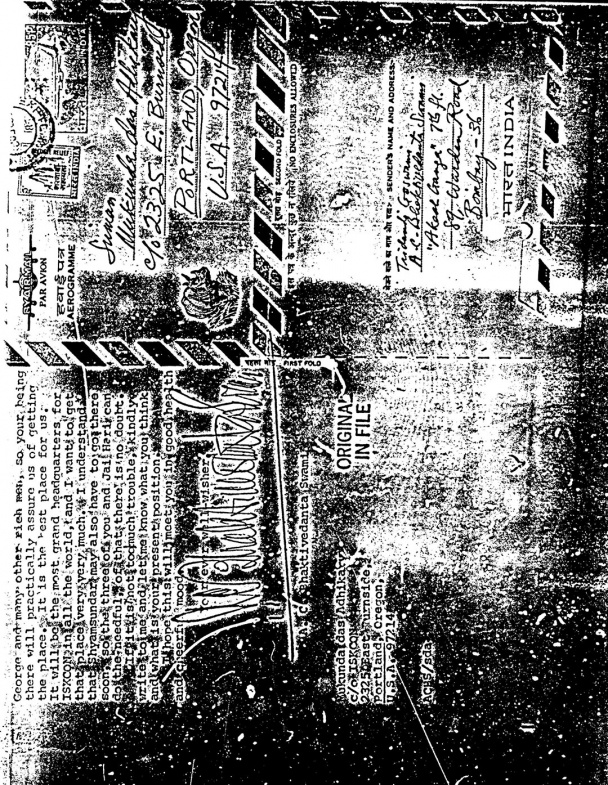 Tridandi Goswami
A.C. Bhaktivedanta Swami

Date:   December 28, 1971
Camp:  ISKCON Bombay

My dear Mukunda,
Please accept my blessings. I beg to acknowledge your letter of December 12, 1971, and it has given me much pleasure to hear from you after such long time. I can understand that you are feeling some separation, as I am also feeling some separation from both you and your good wife, Janaki. I am very pleased to see that you are all right and that you are advancing nicely in Krishna Consciousness. Why your naughty wife, Janaki, does not write me? She is angry upon me or what is that? You are both some of my first disciples, and because of you so many others came, so I am always remembering you fondly. Now please just remain very serious in pursuing your proper goal of life by sticking to the pure standard of routine work like chanting, reading, rising early, cleansing nicely, going on street Sankirtan whenever possible, like that. Then I promise you you will not fail to be really happy in this life and in the end reach the Supreme destination.
I have heard that you are assisting Danavir at the Portland center to hold a very nice festival there. You are one of the most qualified devotees in every way, so I think that such work must be pleasing to you, because that way you are always thinking how best to please Krishna. Krishna is always guiding you and He is taking special interest in you, know it for certain. I am remembering that practically it was you who started both the San Francisco and London centers, our two most important centers. So therefore I am always hoping you will join me again and work under my personal instruction. Perhaps when I return to Los Angeles by late spring I shall see you both there.
I have heard from Dayananda that he has requested you to return to London to help him in getting that huge church in the most important quarter of the most important city in the world. I am so much enthusiastic to get that place, that I may go there very soon also and go door-to-door to raise some money. Shyamsundar is gone to Delhi to meet with our Finance Minister Mr. Chawan to get permission to allow millions of rupees worth of foreign exchange out of India for the purpose of getting that place. Mr. R. D. Birla has promised to help in that way by giving 1/2 million pounds. But even he breaks his promise, many other very rich men will contribute and there will be no difficulty to raise one to two million pounds here, provided Mr. Chawar agrees with our proposal. Even they do not allow, Dayananda is confident we can raise the money in England, because George and his friends are offering to help very enthusiastically. So I think that if you are free, and if it suits you, you may go there to help him. You know London very well, and you know George and many other rich men, so your being there will practically assure us of getting the place. It is the best place for us. It will be the most grand headquarters for ISKCON in all the world, and I want to get that place very very much. I understand that Shyamasundar may also have to go there soon, so the three of you and Jai Hari can do the needful, of that there is no doubt.
If it is not too much trouble, kindly write to me and let me know what you think and what is your present position.
I hope this will meet you in good health and cheerful mood.
Your ever well-wisher,


A.C. Bhaktivedanta Swami

Sukunda das Adhikary
c/o ISKCON
2325 East Turnside,
Portland, Cregon,
U.S.A. 97214

ACBS/sda